The Brookings-Harbor boys' team lives and breathes soccer, according to head coach Jess Beaman. "Even after practices, they want to do more," he said. "They all want to play more and more soccer."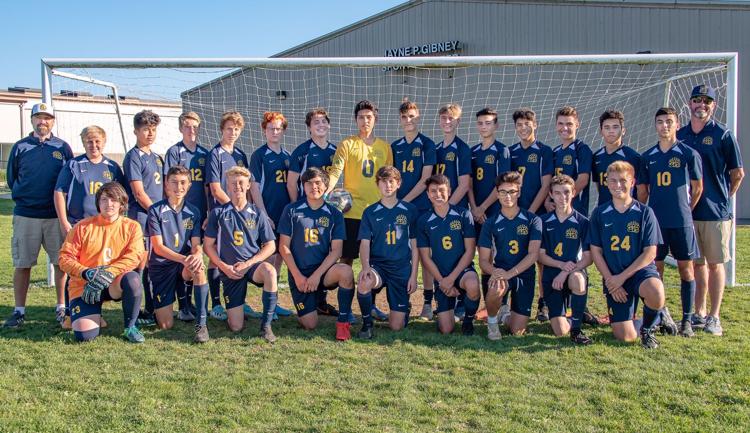 Beaman expects the Bruins to harness that passion as they head into state playoff action.
Undefeated in both league (7-0) and overall (13-0), Beaman's squad opens playoff competition at home Wednesday afternoon, Nov. 6, at 3 p.m. against Western Christian / Perrydale.
To advance, the Burins must win. Doing so would give them a second playoff game at home. A victory then would send the team into the state semifinals … and who knows, the title game thereafter.
The team's success may well be grounded in their grade school days. Beaman decided 10 years ago to start Brookings United, a young players' soccer team.
"I noticed that when the high school teams got into playoffs, they had a hard time with the more aggressive, quicker and physical soccer style," he said. "So, when the kids are smaller, they can better prepare for the game.
"And Brookings United was a good way to get them used to traveling and seeing the other teams."
Over the years, Beaman said, that plan has paid off and triggered more player interest in the game. "Younger brothers and other athletes wanted to be part of the high school team," he said.
OSAAtoday staff writer Jerry Ulmer summed up the team's current season in an article posted Oct. 28:
"The Bruins showed promise early when they held their own in a jamboree against 6A Grants Pass, 4A Cottage Grove and 4A Phoenix.
"They opened the season with a 19-0 win over Gold Beach/Pacific, and in their second match, they rolled 5-1 at Umpqua Valley Christian, last year's district runner-up. They put a virtual lock on the district title Oct. 10 with a 2-0 home win over Umpqua Valley Christian (11-3, 10-3).
"The biggest setback the team has encountered came Sept. 24 when sophomore forward Bryan Valdovinos suffered a broken leg against Sutherlin.
"'He's a big loss for us,'" Jess Beaman said. "'He's just that invisible player. You can't really tell what he does for us, but when he's gone, it's a little bit different style for us to score. He usually put it right on somebody's foot to score.'"
Beaman told The Pilot he doubts Valdovinos will be available for the playoff games.
As the boys' team prepares for the state playoffs, Beaman said, the focus is a back-to-basics formula. "To be successful, it takes all 12 players on the field to work and to play together and to trust each other," he said. "We just need to keep doing that."
Trust among players is critical, according to Beaman. "That trust began with our players in the fourth and fifth grades," he said. "While you'll hear other teams doing much talking during the games, our players are pretty quiet. They move and know where to be and know where each other is on the field. It's a mental thing. They are ready to go and they trust each over."
On the sidelines, you'll see Beaman often talking with individual players. "Some things I think I overcoach, because they are doing the right thing," he said. "I am there to keep them motivated, cheering them up, keeping their confidence up. And I let them all know they are doing a great job out there."
That said, "We also are supportive of the girls' soccer team and hope they do well with their run to state. We also want to thank the community and the parents for their support of both teams."
Beaman has been the Brookings-Harbor boys' varsity soccer coach for three years, following five years as coach of the junior varsity team.
Girls' team every bit as good
The Lady Bruin girls' soccer team is also heading into playoff action this week. Under coach Kyla Siri, the team is 9-0-1 in league play and 12-1-1 overall, having amassed an impressive 36 field goals while allowing only 9-against.
"We had a very similar season to last year, and we expected to be a dominant team," Siri said. "Our team matched up in competition and we were very well disciplined. I'm impressed with the way they battle other teams."
As good as they are, Siri said, the team is still young. "We are a work in progress," she said. "We lost an entire midfield from last year with graduation, and had to replace the midfield."
Siri said the team's chemistry is similar to the high school boys' team. "Some of the girls have played recreational soccer and club soccer together, so the more you play with someone, the more you can predict their play," she said.
Like Beaman, Siri said that trust among the players is a key element to their success as a whole. "When you can trust your teammates to back you up and make decisions, you have a powerful team right there, no matter what your skill level is."
By strengthening each player's skills, Siri said the team's level of play has improved overall.
The girls team captured the league championship last year, making it to the state quarterfinals before losing to Portland's Oregon Episcopal School.
Ranked No. 6 in the state, the 3A Special District-4 back-to-back league champions this year have the potential to go deep into playoff territory.
The state's top eight squads are guaranteed a home appearance in the opening round. The Lady Bruins will be playing at home on Tuesday, Nov. 5, at 3 p.m. against Blanchet Catholic.
Follow the Brookings-Harbor High School playoffs online at curry pilot.com, and in the Wednesday and Saturday print editions of The Pilot.
Randy Robins contributed to this report.