Lexie and Leila Newman won titles at the Oregon Kids State Championship 2020 in Salem. The Jan. 25 meet draws more than 1,700 Oregon kids each year.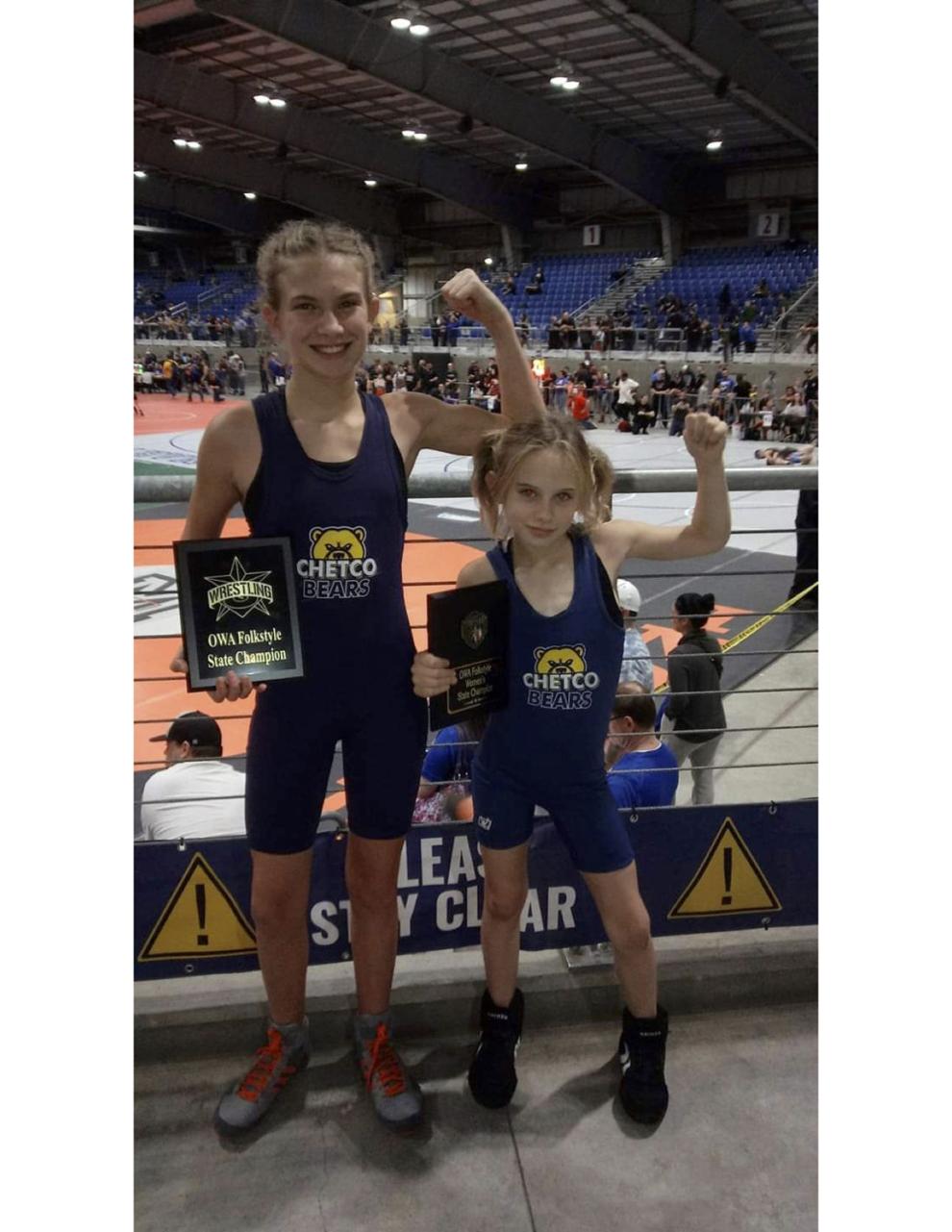 Lexie is 11 years old and has been wrestling for 3 years. Her younger sister Leila is 8 years old; this is her first full season. Lexie also won first last year, according to coach Mike Espinoza. One difference this year is that they had separate brackets for girls and didn't have to wrestle boys this year, although they wrestle boys at home. The brackets are based on age, with several weights within each age bracket.
"Lexie came home from school one day and asked if she could join the mat club," said dad, Chris Newman. Her best friend Alex Ortiz is a member of the club, and Ortiz's father Bernard is one of the middle school's coaches, along with John Christopher and principal Marco Thorson.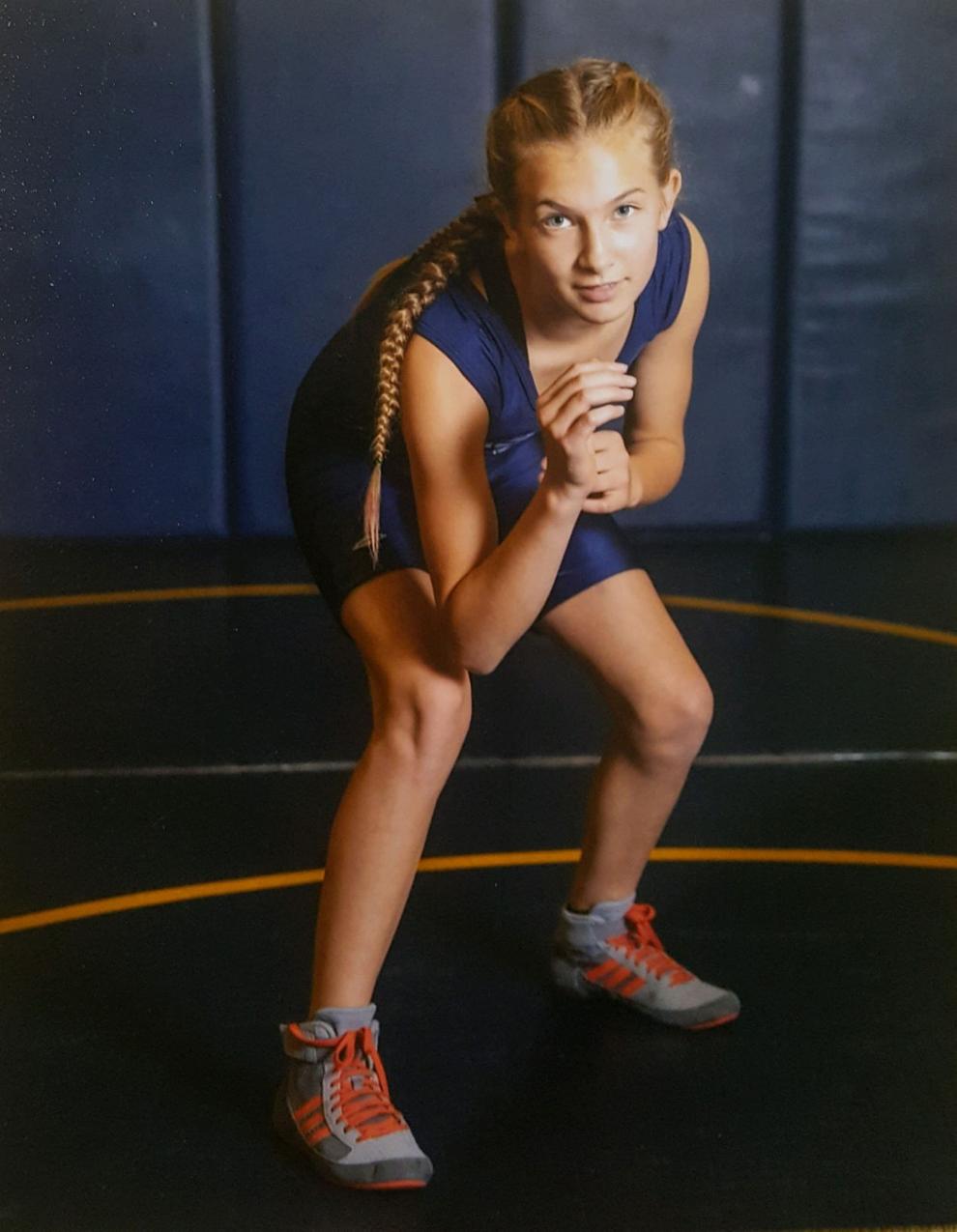 "We took her and she fell in love from the first day," said mom, Tiffanie Newman. "The program introduces them to the sport. The opportunity for scholarships is so big right now, especially for girls."

"The coaches are great. If it wasn't for the coaches, it wouldn't have been possible," she said. "They teach them everything they know. We are learning a lot about the sport ourselves."
The Chetco Bears wrestling team is open to boys and girls of elementary age, and has 45 members. The mat club at Azalea Middle School has between 16 and 18 boys and girls participating. Both groups meet at Azalea Middle School. 

Coaches for the Chetco Bears include Bernard Ortiz and Mike Espinoza. They get help from Alonzo Nalls, who is the Brookings-Harbor High School coach and Johnny Zebadua, who is a recent BHHS grad. Tiffanie credits Nalls with originating the whole program.

"I'm proud of all of our kids," said Espinoza. 
Lexie's work ethic speaks for itself, as well as for the other kids. Besides going out and having fun, as long as they go out and try their best, their parents and coaches are proud of them.

"It's one of the most intense sports that there is," Espinoza said. "It can be very challenging and daunting, and it takes years to get really good. They come in and practice every week, and develop resiliency." 

Espinoza spoke about kids in the club whose parents said they used to cry when they fell, or get frustrated with their homework, that now just keep going. 

"I hope the sport transfers over to everything else in life," he said. "It teaches the kids the value of a work ethic. Everything you get, you earn. I'm super proud of the kids who step up to the challenge."

The recent tournament in Oregon is "folkstyle," with different rules than "freestyle," which is what the team will be preparing for in February for competitions in California beginning in March. Registration for freestyle is from 6 to 7 p.m. on Feb. 3 and 4 in the mat room at Azalea Middle School. For new members, the fee is $100, and includes USA Wrestling Card, hoodie, t-shirt and shorts. Practice begins on Feb. 10. For continuing members, the fee is $50. 

The freestyle tournament schedule encompasses meets in Arcata, Crescent City, Eureka, Fortuna, McKinleyville, and Hoopa, and runs through May 2. The hometown meet will be on April 18 at Brookings High School.

Tiffanie Newman is the president of the Brookings-Harbor Wrestling Boosters. The board does fundraising, including funding a scholarship at the high school, she said. "It's been a big part of our life. We're having fun with it."

For more information, contact the Brookings-Harbor Wrestling Booster and Chetco Bears Wrestling on Facebook or call 909-561-3913.