For five weeks this fall, Brookings-Harbor's football team had a chance to practice schemes. As an added bonus, the Bruins also had a chance for real competition, as part of seven-on-seven jamborees hosted by Marshfield and North Bend.
"Our five-week session really helped us to install some new schemes on both offense and defense," Brookings-Harbor coach Shaun Bavaro said. "But the more important part was the great experience our kids had in competing with other schools in Coos Bay and North Bend. This gave them some normalcy in their life — something positive to look forward to in their life right now."
Reedsport and Myrtle Point also took part in the seven-on-seven jamborees, giving the Bruins several opponents.
The format is passing-only, with the quarterback and five receivers (the center isn't eligible) against seven defenders. Teams have three plays to move from the 40 to the 25, three more to get to the 10 and three more to score a touchdown, which is worth seven points. An interception is worth two points. The quarterback only has four seconds each play to throw the ball.
It's a style the team is familiar with during the summer.
"We treated our session like a typical summer session, with weights, practices and seven-on-seven games," Bavaro said.
"It felt like a normal week for us," Bavaro said. "We had practices and a game. Our kids worked really hard in the short time we had to be on the field.
"I saw a lot of smiles on our players' faces."
The fall season was important, Bavaro said, since the summer was canceled due to the pandemic.
"It helps get back the summer that we lost with school shut down and no spring ball we usually run in June," he said. "I'm proud of our kids and our coaches and their effort during our session. We have made some positive strides."
That should help when the regular football season comes next year — the Oregon School Activities Association pushed all the fall sports until after the winter sports.
"We're excited for the spring," Bavaro said.
Senior Oggie Badger had 20 catches for the Bruins, including five touchdowns. Bavaro said senior quarterbacks Logan Holler and Andrew Burger made nice progress.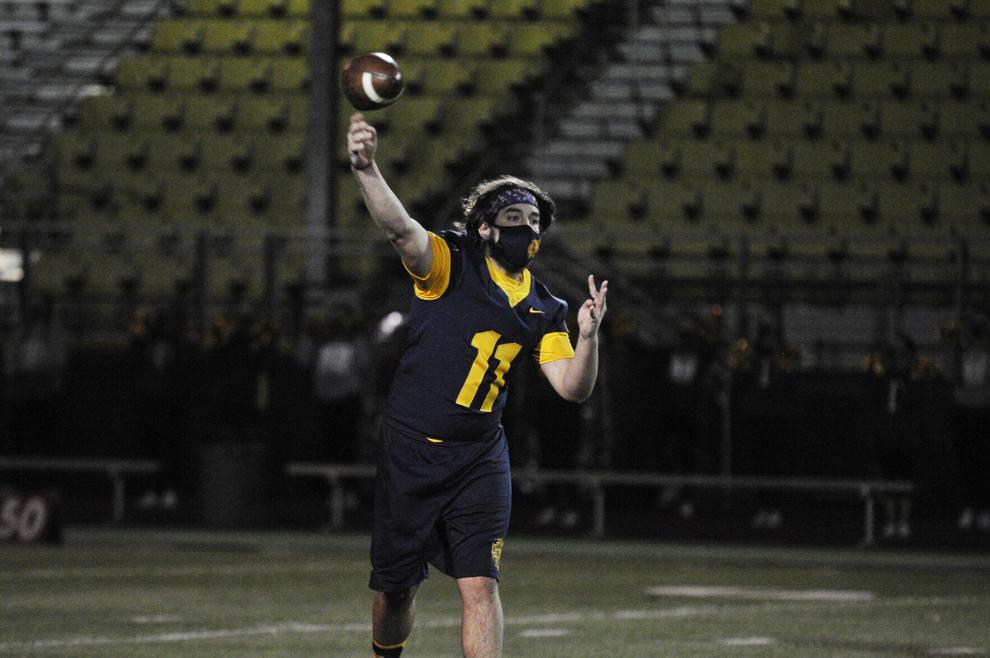 On defense, junior Seth Byrd had an interception and four batted-down passes. Senior Kayson Christensen led the varsity with two interceptions.
The junior varsity kids also had a chance to participate.
Gavin Condracki led the JV with six interception and Kyler Burger and Kyler Christensen had five TD receptions each. Eligh Newell completed 59 of 102 passes for 735 yards for the JV squad.