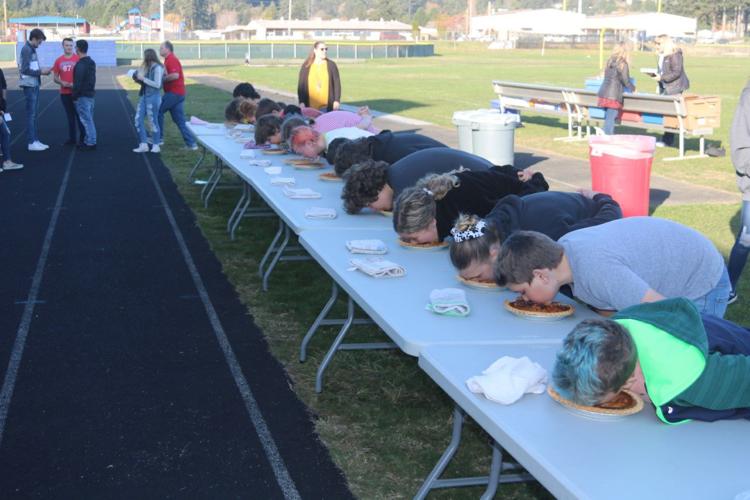 "Organized chaos" is the phrase of the day for Azalea Middle School's annual Turkey Trot.
Every student and staff member attends the annual track and field Thanksgiving-themed event held just before the student's holiday break.
Social studies teacher Perry Kleespies, who grew up in Brookings, has been organizing the event for the past four years. It began sometime in the 1970s, he said, but went away for a period of time.
Back then, it was just a run. "Knowing the attention span of our current population of students, with electronics and all, we knew we couldn't just do a run," Kleespies said. "It's almost like a track meet."
In addition to 1.1-mile races for each grade level, the event includes turkey calling, squash tosses, a marshmallow basketball relay, pie eating and pumpkin bowling contests.
Turkey Trot runners at each grade level received a frozen turkey for first place, pumpkin pie for second place and a 10-pound bag of potatoes for third.
"Grocery Outlet donated all seven turkeys and 25 pies for prizes and games," Kleespies said. "They were not asked, they simply refused to allow me to pay for the over $200 worth of food when I went to pick it up."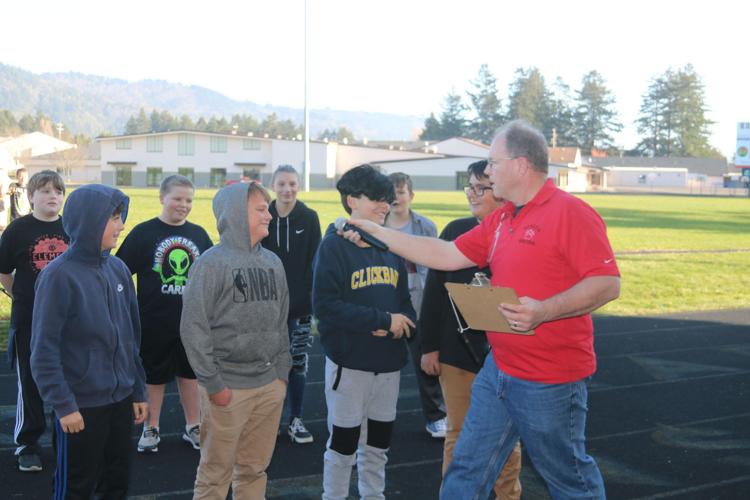 "It's organized chaos," Kleespies said, "which I usually don't do well with, but I create it."
The first chaotic surprise was when the event's PA system failed. "Technology did not work for us today," Kleespies said. But that failure didn't last long, as everyone pitched in to get the system up and running.
Meantime, Kleespies deployed his loudest outdoor voice to keep the crowd of kids organized as they awaited instructions, barely contained within the stadium bleachers.
"This is my event, but I get tons of help," Kleespies said. "You probably noticed the other staff members. It doesn't happen without the whole group.
"I have every teacher on board there with their classes. I've got every aide, every support staff actually making the event happen while I'm running around doing the event." High school and middle school leadership classes also help out.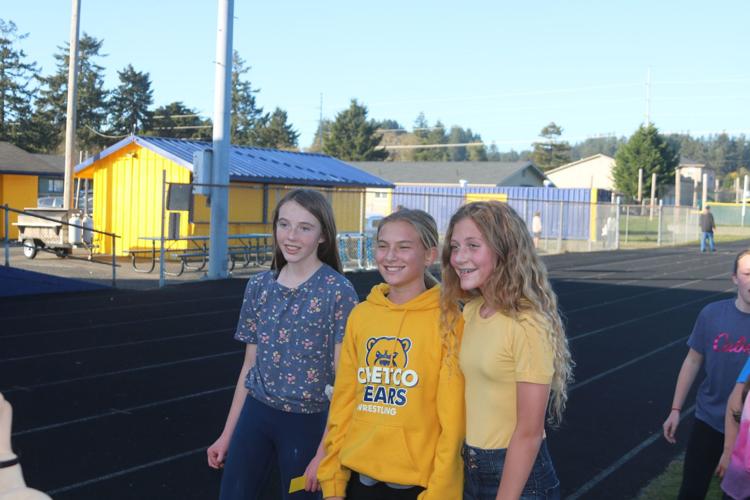 The boy and girl runners winning the coveted Golden Turkey awards were eighth-grader Kyler C. in a time of 6:11, and sixth-grader Lexi N. with a time of 7:20.
Other contests garnered points for spirit, earning a class-wide prize when the kids return to school after the holiday. Seventh-graders swept the board, winning the squash toss, and the pie eating and turkey calling contests.
The Turkey Trot was held Nov. 22, at the Brookings-Harbor High School stadium.