Tim Palmer is excited to share his latest book, "America's Great Mountain Trails: 100 Highcountry Hikes of a Lifetime," He's written 28 other books since 1980 about the environment, outdoors and adventure travel. They range from pocket guides to hardbound coffee table books, and cover rafting, kayaking, canoeing, hiking, forests, mountains and rivers.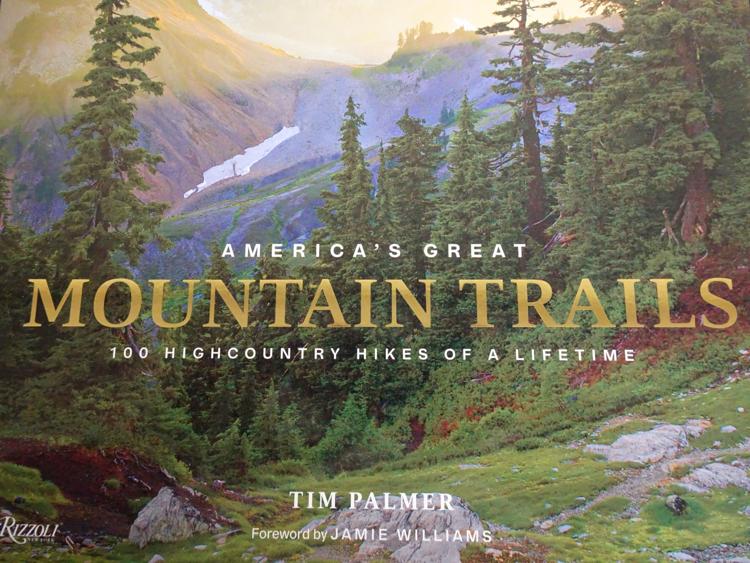 The latest book is a hardbound, 320-page coffee table volume, lavishly illustrated with 220 color photos taken by Palmer. The book is described by Amazon as a "hiker's inspirational bucket list."
"The idea was to cover all of America's mountain ranges," Tim Palmer said. "There are 11 principle mountain ranges. Mountains and foothills cover 40 percent of the country. I picked 100 trails throughout with an interest in covering the whole geography and having variety, like short trips and long trips, easy ones and hard ones, focusing on scenery and really notable, memorable experiences."
The book starts with an overview of why mountains are important, and advice for how to plan for a trip. The 100 trails are divided into regions that include New England, Central and Southern Appalachians, Rocky Mountains, Desert and Dryland Ranges, Sierra Nevada, Cascade Mountains, Coast Range, Klamath and Siskiyou Ranges, Olympic Mountains, Alaska Ranges and Tropical Islands (Puerto Rico and Hawaii).
Readers in this region don't need to travel far beyond their own backyards to find what Palmer has deemed some of America's Great Mountain Trails. But perhaps, it takes someone else describing places that are familiar to realize how special they are.
For readers in Crescent City, Prairie Creek Redwoods to the south of Klamath is described as having "one of the best trails anywhere through groves of redwoods topping 300 feet. A gentle climb over the westernmost Coast Range topography leads to an Edenic canyon bedecked in ferns, favorite pastures of elk and campsites just a stroll from Pacific whitecaps."
For both Crescent City and southern Oregon, two trail in the Kalmiopsis Wilderness also make Palmer's top 100 hikes. He describes one of the hikes outside of Cave Junction as "a harsh range of rocky ridgelines, forbidding canyons, and outcrops of colorfully mixed minerals metamorphosed from rock formed undersea and then pushed up by powerful tectonic forces." Palmer does advise, "But let's be clear: this place is not for everyone."
Further north, more local landmarks and trails are in Palmer's top 100 hikes: he describes the Lower Rogue River Trail, located between Agness and Merlin, as "the best footpath that transects the apex of the Klamath-Siskiyou Mountains, and for that matter, the entire Coast Range" and Humbug Mountain, between Gold Beach and Port Orford, as "the tallest summit rising directly from the ocean on the Oregon Coast."
"It's an amazing opportunity and privilege to be able to do this," Palmer said about his writing.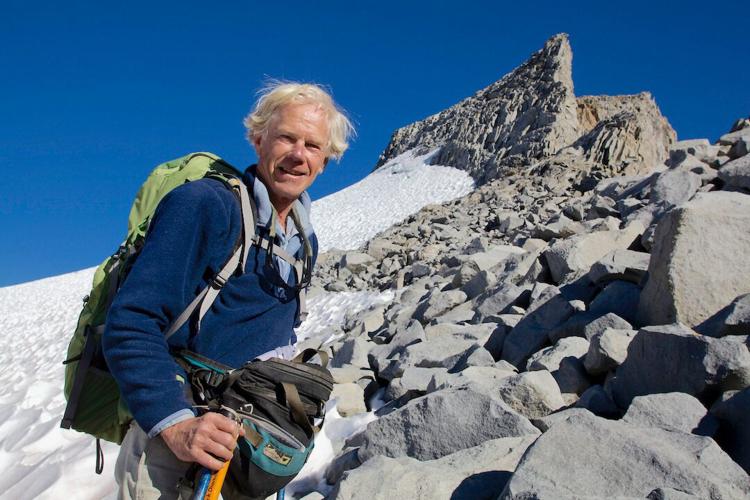 Palmer grew up in the Appalachian foothills in Pennsylvania. "I ran wild in the woods as a little kid and developed this inseparable attachment to the natural world at a young age," he said. As he grew older, he started exploring further and further and began backpacking in high school, taking every trail he could find. During his freshman year in college, he applied for a laborer's position with the park service and got a job at Crater Lake National Park.
"I hitch-hiked out here, and hitch-hiked every weekend while I was here exploring the Northwest, including Mt. Hood, and came down here to the coast. Then the next summer I got a job with the forest service as a seasonal landscape architect in Idaho in Sawtooth National Forest. It's been like that ever since."
After receiving a bachelor of science degree in landscape architecture from Pennsylvania State University, Palmer worked for eight years as a land-use planner on land use and environmental topics from 1971-1980. He started to write full-time in 1980. After spending 22 years living as a nomad in his van, he and his wife now live in Port Orford.
Palmer has no formal training in photography or writing, but that hasn't stopped him from winning numerous awards for his books, including two National Outdoor Book Awards, Oregon Book Award Finalist, Benjamin Franklin Book Award, and an Indie Silver Award for best Adventure Book.
A primary focus of Tim's work is public speaking. He has been featured at hundreds of national, statewide, and provincial conferences, conservation gatherings, and at colleges and universities nationwide.
The prolific author will share photos and talk about his newest book at two local events in December. Palmer will speak at 6 p.m. Wednesday, Dec. 4 at the Chetco Community Public Library in Brookings, located at 405 Alder Street. He will present at 5:30 p.m. Thursday, Dec. 12 at Curry County Public Library in Gold Beach, located at 94341 3rd Street. Both events are free.
For more information about Tim Palmer's books, visit timpalmer.org.