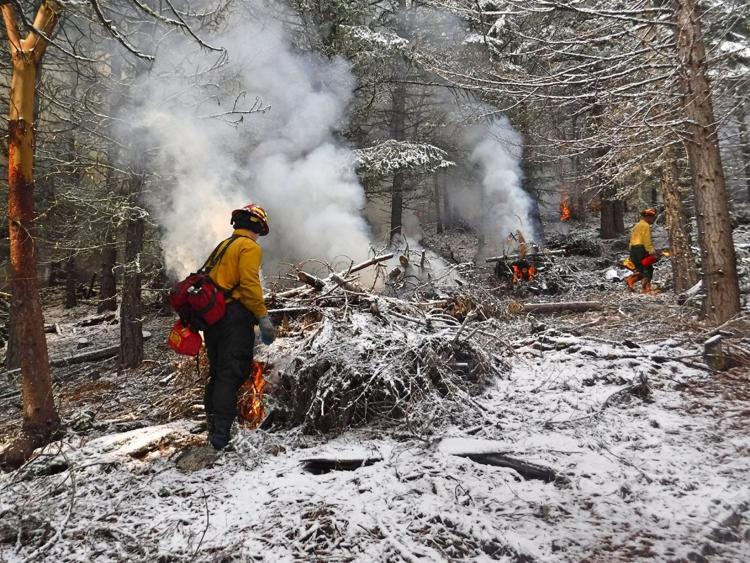 The annual fall and winter prescribed burning season is underway this week in the Rogue River-Siskiyou National Forest (RRSNF) and will likely continue into winter.
"Expect the burning to happen until it is too wet to do so," the Forest Service public affairs spokesperson Chamise Kramer said.
Selected debris pile burning was conducted on Monday, Oct. 7, in the Gold Beach District of the RRSNF.
"This prescribed fire season comes on the heels of a mild fire season, and with predicted weather conditions, fire managers are planning an aggressive approach to prescribed burning, with an emphasis on protecting communities from wildfire threat, and restoring forest resiliency," Kramer said.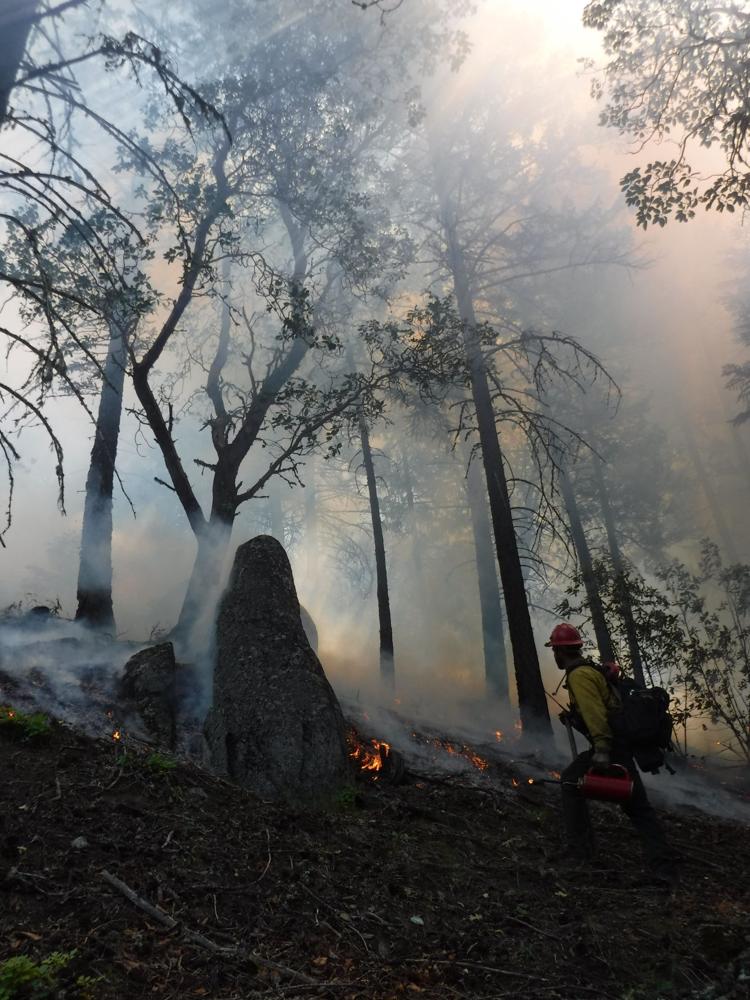 Currently, prescribed burns planned across the RRSNF for a variety of projects and locations, including those where the RRSNF has previously invested time in fuels reduction work, near neighboring private lands that are at risk from wildfire, areas that need fuel reduction, or wildlife habitat enhancement.
Kramer said, in all, the prescribed burns will be conducted over approximately 9,000 acres of the RRSNF.
The RRSNF includes five districts: Crater Lake, the Siskiyou Mountains, Wild Rivers in the Illinois Valley and the Powers and Gold Beach Ranger Districts.
Kramer said the burns are critical for forest health management.
"Over time, the forests have gotten more dense and they need to be opened up from the bottom to restore overall resilience and forest health," she said.
Two types of prescribed burns are conducted in the RRSNF. The first is under-burning, where specific areas are mapped and crews use drip touches, which allow a low creeping flame on the forest floor to be used to clear the area.
The second is piling burning, where forest debris has been assembled and is ignited.
Kramer said prescribed burn operations are planned with required safety precautions in place, and lit by qualified fire personnel during carefully selected and monitored conditions. A burn plan and "prescription" sets out the conditions that allow low-intensity fire to consume the piles and ground-level fuels most effectively and safely, all while protecting larger trees and soils.
Kramer said the burning is conducted under strict state and federal guidelines.
"We do have to meet all sorts of criteria," she said. "That includes approval from the Oregon Department of Environmental Quality, and we must notify communities when the burning will be taking place."
Kramer said specific weather conditions are also key in planning the burns.
"We carefully check humidity, winds and temperatures," she said. "If it is really hot and really dry with east winds, we would not burn. Conditions need to be very specific for us to do these prescribed burns safely and effectively."
According to Kramer, fire managers select weather conditions that will send smoke away from nearby sensitive communities as much as possible. Afterwards, regular patrols are assigned to check on prescription areas to make sure they are remaining within the designated and planned project areas.
To see where the RRSNF and its neighbors are planning to burn, visit the RRSNF and Rogue Valley Interagency Communications Center website, which is updated each morning. The public is also encouraged to follow the RRSNF on Facebook and Twitter for the latest information and regular updates.