Every Tuesday, lunch is served at St. Timothy's Episcopal Church in Brookings … to anyone who wants to eat, whether homeless, hungry or just lonesome.
On this chilly day, when the doors are opened early so guests can come in to warm up, between 60 and 70 people show up at the church, at 401 Fir St.
Many of them are regulars, although several new people come each month. Some of them are on fixed incomes and eat there to stretch their pensions. Many are homeless, some are families, others the "working poor."
Lunch is served at noon, but already this morning the pans are clattering and large pots are boiling on the stove. The menu will be vegetable beef soup, baked ham, mashed potatoes with gravy, vegetables, toasted and buttered bread, and desserts.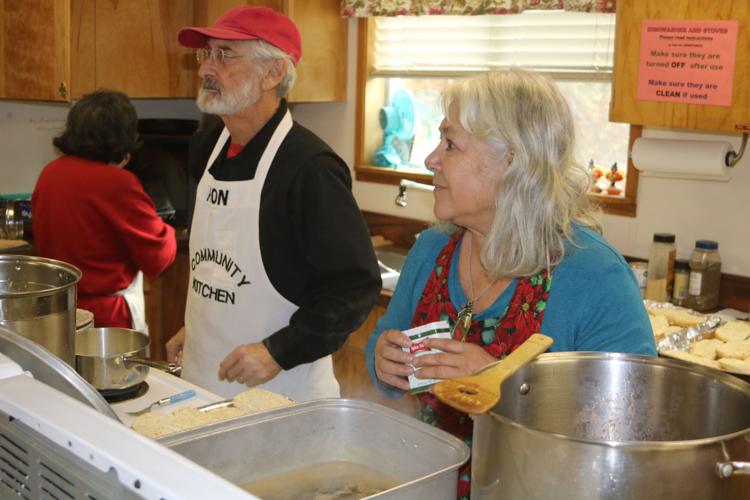 Every week for the past 11 years, Angele Holm, age 69, has been cooking, joined by about half a dozen or more fellow volunteers. She said she'll be retiring on Jan. 31.
"I started working here in 2009, when they had the free clinic," she said. "My husband was an RN. He died seven years ago.
"This year has been very challenging for me, because of Ron (Hedenskog) and John (Stover) being gone. They were my partners, but they retired last year. It was fun.
"I've decided to spend more time with my family. I have four kids, 10 grandchildren and four great-grandchildren, spread out between Cave Junction, Grants Pass and Washington. I'm going to do some traveling and fix my house up.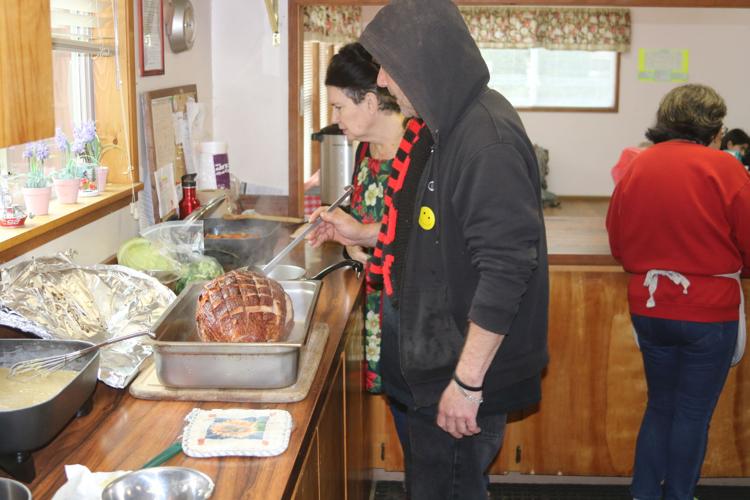 "I'm training Eddie Klein and Tracy Rutt," said Holm. "They will stay after I'm gone. Eddie is very familiar with the church, the community and this kitchen, and he'll get some other volunteers in here."
Klein cooks breakfast on Mondays and lunch on Saturdays, and makes bag lunches on Sundays. He's now cooking on Tuesdays, as well.
Klein said he's has been a volunteer at the soup kitchen for eight to 10 years. "I know most of the homeless folks here because, well, I'm homeless. I know Father Bernie and the 'churchies.' I know them because I am a member of the church.
"St. Tim's does a lot for the downtrodden," said Klein.
"It gives me something to do. Keeps me out of bars and houses of ill repute," he said with a laugh. "We're family oriented. It's fun."
"Eddie does everything here," Holm said, giving him a hug. "He takes care of everyone here."
In addition to providing meals several days a week, the church opens its showers upstairs for people to use every Monday, Wednesday and Friday morning.
Staff also hand out vouchers for The Old Wash House Laundromat at 97900 Shopping Center Ave. in Harbor for those who want to wash their clothing.
Holm was the last owner of Rubio's restaurant. "I had 20 years of cooking experience in restaurants before moving here. I learned how to delegate, how to push people around. Just kidding.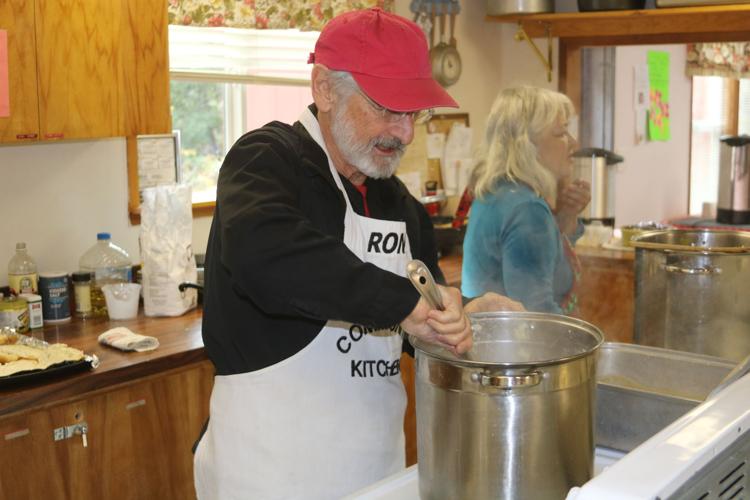 "Are the potatoes done yet?" Holm asks volunteer Rutt, who's in charge of the potatoes. "Have you ever made mashed potatoes before?" she asks. "I'm not going to be here soon, so you're going to have to start thinking for yourself."
As for why he volunteers, Rutt said, "I'm a practicing Buddhist. I'm exploring that path to understand myself better through helping other people.
"This is my third week," he said. "I started from no-cook, to doing some cooking."
"He's still shaking in his boots," Holm ribbed.
"He's worried they're going to throw the food at him," said Angel LeMieux, a new volunteer. "Angele (Holm) is changing her phone number as soon as she leaves."
The work for each Tuesday's meal begins on Sunday, when Holm decides what to cook and creates the menu. "If I don't have the menu by Sunday night, I can't sleep," she said.
On Monday, she goes shopping. Her food budget comes from the church and donations from the congregation. "I try to keep it as low as possible and use what I have first," she said.
"It runs about $30 a week, which is pretty good for serving 60 people. I came from a family with nine children. I know how to save money."
Holm checks in again on the potatoes, which have had milk and a pound of butter added to them. "Do you think that's enough for 60 scoops? We can stretch it with some more milk. You can heat the milk in the microwave."
Then, she tastes the soup. "It'll be full up to here when it's done," she said, pointing to near the top of the 5-gallon pot, "by the time we get everything added." She likes to use fresh vegetables and adds plenty of garlic in the winter.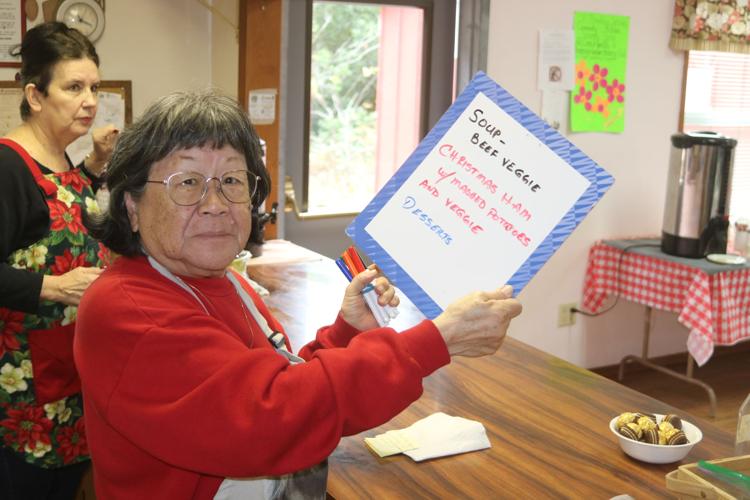 Rose Johnson, who's 83, writes out what's on the menu. She usually gets a ride to the soup kitchen with Angele. "When she leaves, I'm going to leave, too," Johnson said.
Phillip Nelson, who's been volunteering for eight years, arrives to begin washing dishes. "They've got all the pressure, I just do the easy work," said Nelson
Other volunteers who help out each week include Linda Nelson, dishes; Ursula Greger, server; and Diana Zelmer, baker.