Rene and Dick Braden have quite the view from their home in Smith River.
On a beautiful day, like Nov. 3, they can even see the St. George Reef Lighthouse.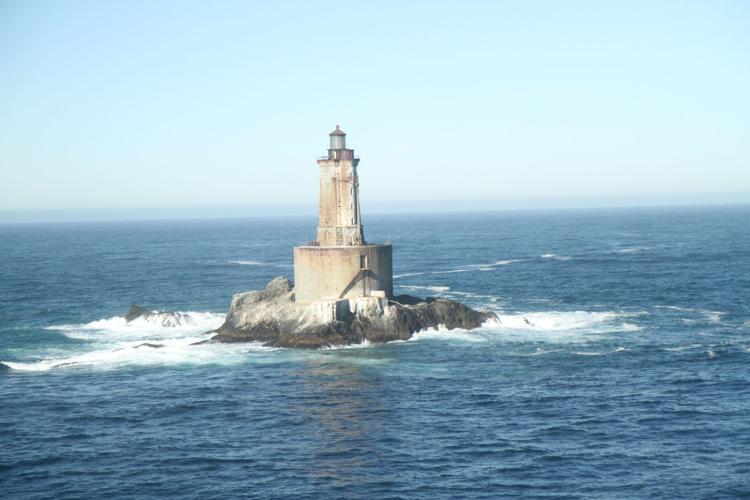 "I can see the lighthouse from my kitchen window. I've long wanted to go," Rene Braden said. "A neighbor asked if I'd ever been out there. I told him I had not."
Now, the Bradens can say they have been. The two paid to take a tourist helicopter flight to the historic lighthouse that's sponsored by the St. George Reef Lighthouse Preservation Society.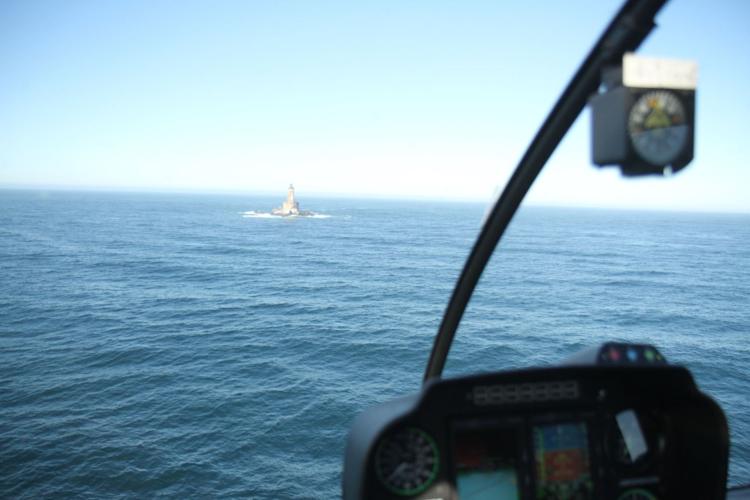 "I'm really glad I went. It was awesome. It was really beautiful," Rene Braden said.
"I want to stress that the guys work really hard out there. They've done a ton to update it," Dick Braden added.
The St. George Reef Lighthouse Preservation Society has been ferrying volunteer craftsmen out to renovate the lighthouse since 1988.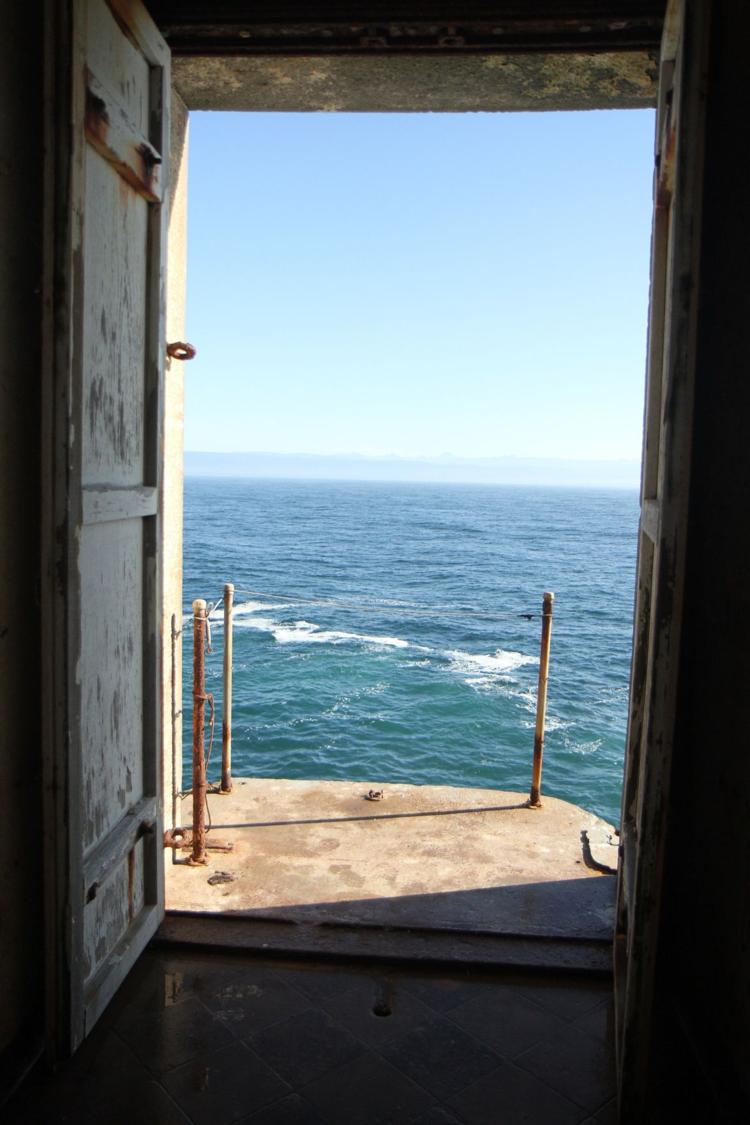 The St. George Reef Lighthouse was built in the wake of the crash of the Steamer Brother Jonathan in 1865, when 209 seamen lost their lives to the "Dragon Rocks." It took 10 years to construct, located 7 1/2 miles off the coast of Crescent City, at an estimated cost of $704,634.
The U.S. Lighthouse Service manned it with keepers until 1939, when it merged with the U.S. Coast Guard during wartime. The Coast Guard decommissioned the lighthouse in 1975.
The original 6,000-pound lens, crafted in France with its 504 hand-cut prisms, is now on display at the Del Norte County Museum in Crescent City.
In the years after the Coast Guard left, the St. George Reef Lighthouse fell into deterioration from disuse, before the preservation society took up its renovation efforts.
However, the society is allowed to access the lighthouse only via helicopter, in November through April, according to founder Guy Towers.
"Why did (the renovation) take so long? We could never get any congressman pushing for it, it's so far north. It's like Del Norte, what?" Towers said.
"In the meantime, we educated the community. Set up displays. It was amazing. Very few people who lived in Crescent City even knew it was out here. People thought it was an oil rig."
Towers said the St. George Reef Lighthouse Preservation Society recruited all local volunteers, from Eureka to Gold Beach, to perform the revitalization work. Some are retirees. Others, although still employed, can take Fridays off work, Towers said.
Terry McNamara has been volunteering since the beginning, and recruited his son to join the team of about six to eight at a time.
"This place has always been interesting," said Nick McNamara, a carpenter by trade, born and raised in Crescent City. "I saw it out there. It was always kind of a mystery. I thought would be cool to go out there.
"You get here and actually see it, the craftsmanship is amazing. Not only do they not build it like this anymore, you couldn't even find somebody to do this kind of work. All this stonework is a lost art."
Marilyn McLaughlin, who checks in tourists before they fly out to the lighthouse, used to cook meals for the renovation crews. She said the galley wasn't an ideal workplace when she first began.
"When the Coast Guard left in 1974, they just walked off. They left it a mess, with food and garbage everywhere. Our guys have done so much work out there. I would cook for a week at home, freeze it, then bring it to the lighthouse and cook it there."
These days, she leaves the cooking to Sal Hernandez. He's been working on replacing the woodwork, cabinets and broken windows in the galley.
"It's a fully functioning kitchen. Everything except the refrigerator still works. We bring everything on ice," Hernandez said.
He also pulls double duty as a docent, playing a loop a video of "Last One Out Turn Out the Lights," a documentary about the Coast Guard leaving the lighthouse.
Towers said there is still an endless list of renovations to go. Nothing is finished.
"The most complete jobs are lights installed and functioning utilities. The toilets work, lights work in all the rooms, and that's major.
"You come out here and there's no power, you're in a world of hurt. Especially at night, these rooms are like a darkened cave," Towers said.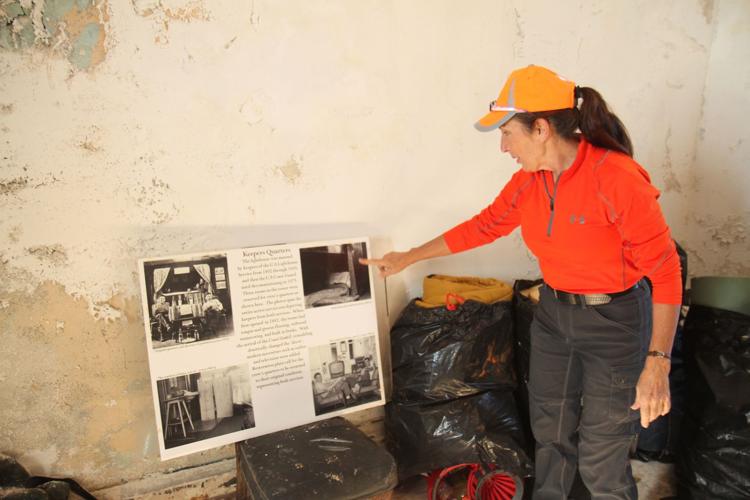 The preservation society gets nearly all of its renovation funding through the tours, with the occasional donation. Such as the $23,000 Towers said someone paid to cover the cost of moving the original lantern to the museum. Today, the light is solar powered.
But the lantern room itself needs additional work. Towers said the replacement plexiglass corroded over the years. Now, they're looking at replacing that with plate glass found in large homes that can withstand winds up to 80 mph.
First-time visitor Felise Hart of Crescent City pitched a fundraising idea to Towers in between his historical tales. "I had some ideas to help raise more funds by promoting it at the farmers market with an information booth," Hart said. "You've got all these tourists coming through there. Get them interested in taking a tour out there. Bring more in the daytime."
The preservation society charges $300 per tourist and is allowed to take only 36 a day. That equates to $64,800 per season, which runs from November to April.
The National Marine Fishery Service mandated the limitation to six months because of the endangered steller sea lions that nest on the rocks below the lighthouse the rest of the year.
Towers said their rehabilitation efforts took a big hit to the pocketbook seven years ago when the State of California suspended their helicopter flights over a dispute about the size of the landing pad, contending it was too small. He said that through perseverance, they finally got a waiver last year and are cleared to resume flights.
As much as Towers enjoys his docent duties, don't ask if the ghost stories are true. "Don't believe the ghost stories. If somebody said that, it's baloney," Towers said, adding:
"Although, a cute story about that. Some of keepers from the '50s told me they liked to freak out the new guys who came in. They had a rack near the doorway into the galley where coffee cups hung. They knew that if you opened door, a draft came in and some cups rattled.
"So, a new keeper sitting there, he'd hear that rattle, and they'd say, 'That's the ghost of Jim McCully. He still haunts this place.'
"No, we've never seen any apparitions out here."
What they do see are a lot of tourists. Towers said he's amazed that lighthouse fanatics actually travel all over the world to take photos, including of the St. George Reef Lighthouse. He said he's welcomed lighthouse fans from as far away as England, Scotland and Saudi Arabia.
Tours continue once a month through April, depending upon the weather, Towers said.