A large and sprawling homeless encampment in Harbor, upriver from the Chetco River bridge where U.S. Highway 101 crosses, is being cleaned up, starting on Feb. 12 by Curry County crews. Tarps and makeshift tents covered hundreds of square feet of county property along the South Bank Chetco River Road at the South Bank Underpass Road. Propped up with poles, the long row of the structures wrapped around the curvature of the bank and sheltered piles of belongings mixed with rubbish, assorted junk and heaps of trash.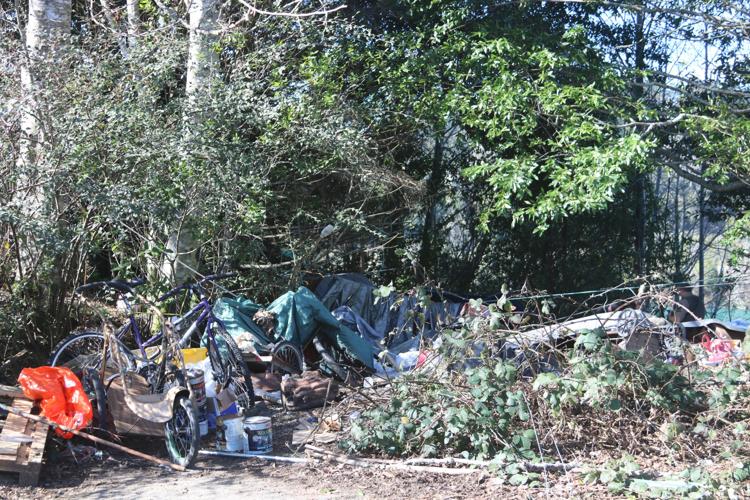 "We are taking the public complaints seriously, and are trying to take care of the mess," said Julie Schmelzer, county administrator. "The site was unsafe for the encampment due to highway access (curve), because it is a designated landslide area, and we are concerned about fecal matter and debris entering the Chetco River."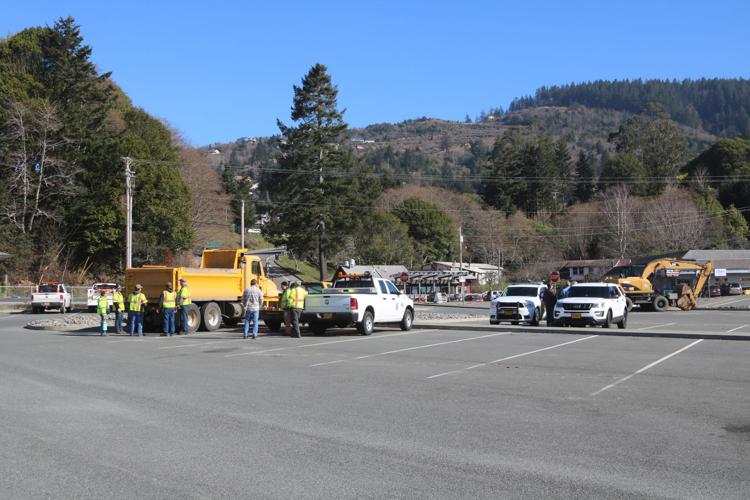 The property was posted on Feb. 10, providing notice of the impending cleanup. Curry County Sheriff deputies arrived first to clear the camp of the sole occupant before crews could begin. At one point, as many as 18 people inhabited the camp.

According to a press release from the Curry County Sheriff's office, forty-nine-year-old Garry Roberts Jr. was arrested for trespass and depositing trash within a hundred yards of a waterway. Roberts was transported to the Curry County Jail and cited and released the next day.
"He was asked to leave the property, he doesn't own the property, and so he was arrested for trespassing," said Sheriff Lt. John Ensley.
"Unfortunately, it's gone this far, and now we'll do what we can to get it cleaned up," said Sheriff's Capt. Phil McDonald. "I know the gentleman that created this mess is not happy. We gave him the opportunity to pick up the things he needed to have and go or be arrested. He chose not to do that, so he was arrested. The thing is, this isn't a guy camping. That's not what this is. This is a garbage dump that this guy has created. He is homeless by choice, and he's made this mess by choice. I know there are people who say, 'Oh, poor homeless guy. Why are they doing this to him?' But why is he doing this to us?"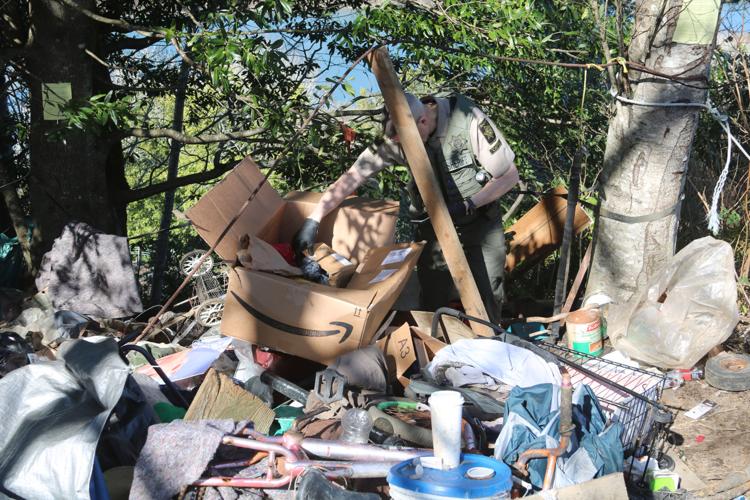 Curry County Code Enforcement Officer Dave Fortman led a tour for The Pilot before the cleanup began through a winding narrow path inside the various makeshift tent chambers full of stuff piled 3 to 4 feet high. We couldn't go around the outside of it because it extended right up to the edge of a steep bank, so we had to go through it, ducking in places and stepping over trash to reach the other side.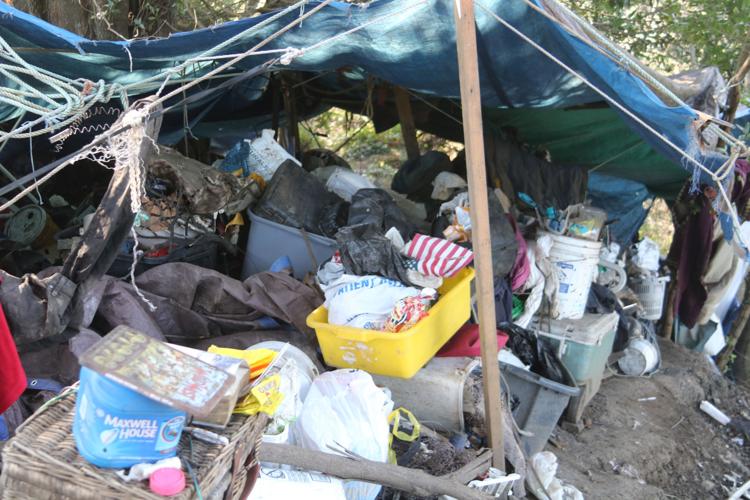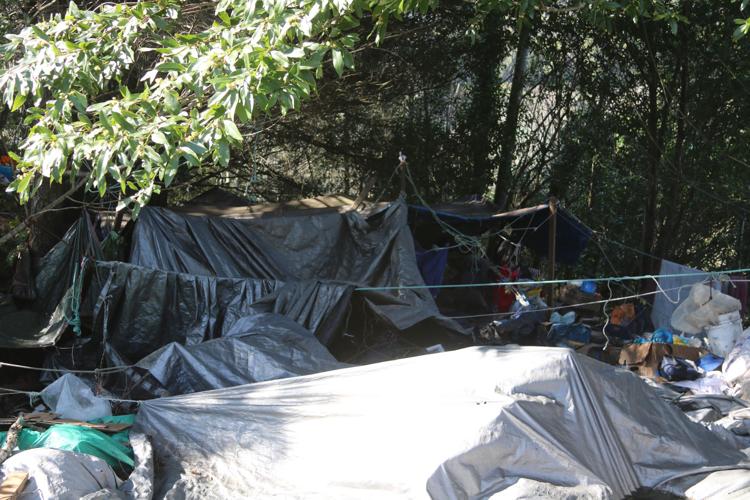 Deep in the bowels of the tent maze was a burn barrel, where the occupants burned trash, including plastics. One of the complaints about the camp was from a nearby cancer patient who has trouble breathing and has especially suffered from the pollutants emanating from the illegal burning. A perilously short distance from the burn barrel was a large propane cylinder on its side, creating a fire hazard.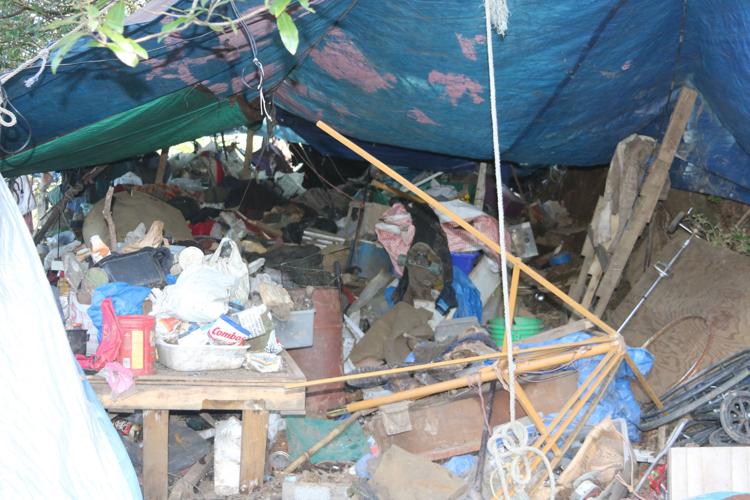 Empty food tins, numerous bicycles, a grocery cart, a wheelchair, discarded clothing and blankets, crates, baskets, potato chip bags, paint cans, dirty dishes and other garbage overflowed the county property, spilling onto the neighboring property below, owned by Dave Jenkins, of YMT WoodWorks.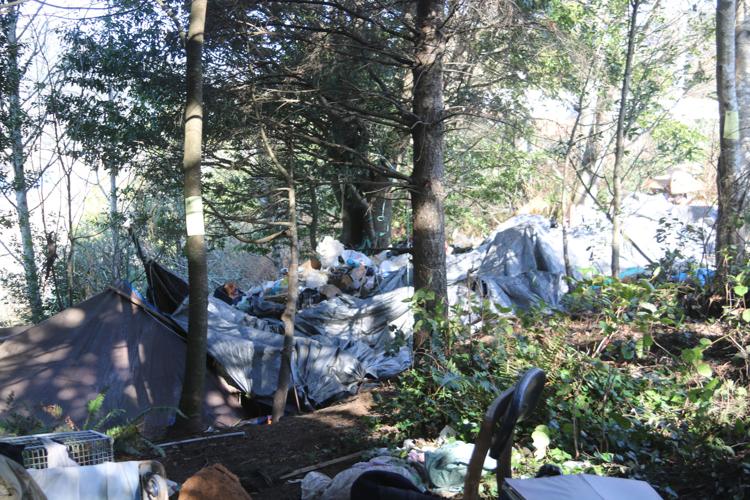 "I'm not necessarily happy. It was something that had to be done," Jenkins said. "The human waste and the smell was horrible in the summer, and things like that, with my business right there, customers complained. I had a water problem and my waterline goes through there. I brought in a new waterline because I couldn't get under that," he said, gesturing to the tented encampment. "It was a bad issue. I've dealt with it a long time, and it's just grown too much. The trash is one of the things that people who donate (to homeless people) don't realize. The week after Thanksgiving, they'll have more garbage because everyone gives them food. They don't have anywhere to dispose of it. I've rented a dumpster three times to clean out under the bridge."

Jenkins knows the man who was arrested and feels bad for him. 

"There's so many different sides," he said. "Garry's lived here in Brookings a long time. He had an apartment and lost his job. So he's been in the area. There's history. He's a resident. The camp was up there, they moved him out and he moved down here. But where's his waste going? It's going into the river, and people are catching crab right down there."
Jenkins is now worried about retaliation. He was contacted by the county to see if the camp was on his property. 

"So I've been a little involved," he said.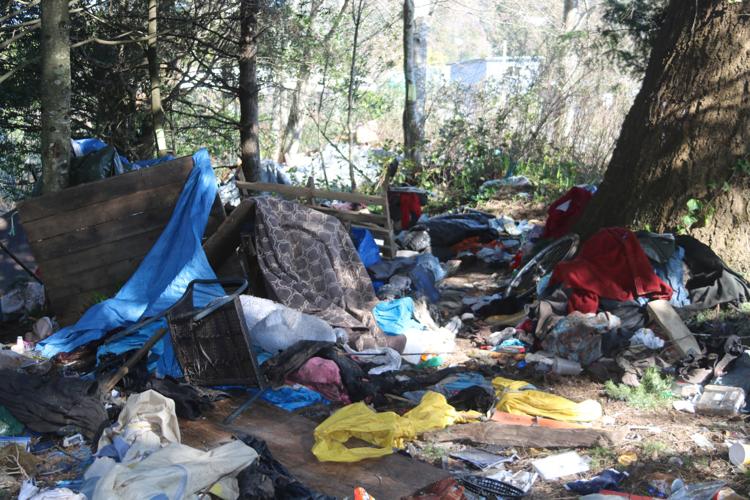 Fortman explained why it took so long for the county to take action after the subject came up at a county commissioner's meeting last fall. 

"First we had to comply with all the laws and notifications and notices to move people off the property," Fortman said. "In November, at the meeting, we had to request funding to do this. We're looking at $15,000-$20,000 right now that we're spending to get this cleaned up. It's taking manpower time, all this is going to the dump, the county's being charged for the dump fee, all of the particular property belonging to the transient that's of value has to be stored at the county's expense for 30 days."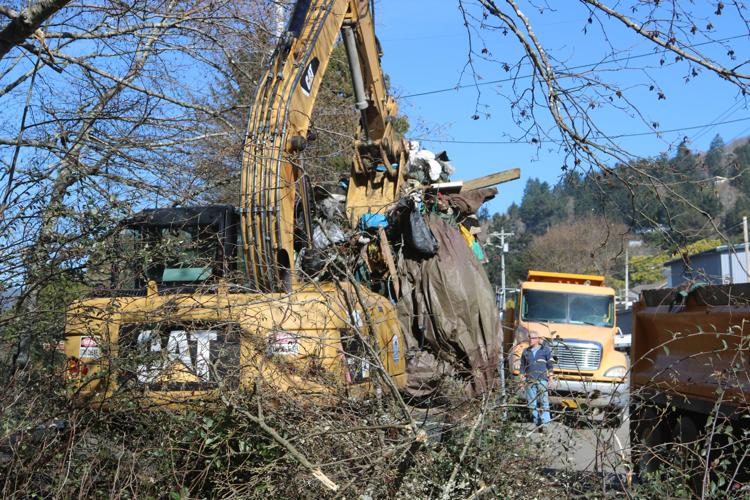 Workers were instructed that all of the bicycles, backpacks and tools were to be set aside, honoring the request of the site's former occupant.

"The other reason for the delay is we tried to work with the transients," he said. "We kept offering them services and trying to make alternatives and trying to get them to voluntarily move on. We're complying with the law, but trying to be compassionate in finding alternatives. It was Christmas time, then budget funding time. I was told by the county commissioners they would find the money to take care of this. I tried to get local groups to provide services, but the residents here decided not to move." 

The man who was arrested had been offered housing vouchers several times, which he declined. Fortman also came by to warn him several times after posting the notice that the cleanup was coming.

"The county has a voucher program through the Homeless Coalition," he said. "If they are veterans, the Veterans Administration has housing vouchers, clothing and bedding vouchers. Mental health is offered to them. Animal control offers them assistance with their animals."

The Pilot caught up with a homeless woman, who had been at the camp across the river the day before. Fortman said that she had cleaned up her portion of the site before moving on. She was working on her car, which she is now sleeping in, near the current cleanup site. 

Asking to only be known as K.H.O, she said, "Basically, I've been homeless for about 6 months, not by choice, no drugs, not anything like that involved. I'm completely clean, but people around me aren't clean. I was working as a med-tech full-time, married, six kids. Husband decided to cheat and wanted me out in two days." 

She just broke up with a boyfriend who she said beats her all the time, but he was the only person who has been protecting her during this whole time, she said. 

"I've been trying to get a good job, but no one wants to hire a homeless person," she said. "I've been utterly humiliated. I decided that if I was going to be homeless on the street, I would turn my tent into a home. I had a little garden and a little stone path that I built myself and made it as comfy as possible. When they asked me to move, I cleaned up everything except where the others were literally still sleeping there. Thirty bags of trash is what I cleared of theirs.

"I usually have an upbeat personality, but I've had to pan to survive. As of 3 weeks ago, I had to eat food I found in the garbage for the first time because I don't qualify for food stamps. I don't qualify for anything else. I do what I gotta do." 

She's been eating peanut butter sandwiches for the last week and a half. She doesn't always go to the free meal sites in town when it's cold or freezing rain. Fortman provided her with information where she could obtain a housing voucher during the Pilot's interview with her.

When asked about what local government could do to help, she had a suggestion. 

"Take one of these parks that they close for the winter and open it up for homeless," she said. "For even $30 a month, all of them can get that. Instead of having camps everywhere, they would have a place they could go for a moment." 

She blames the freezing cold and lack of space to breathe as creating bad attitudes, causing some panhandlers to become ruder lately. 

Another suggestion from K.H.O. was for the city to provide a dumpster at the proposed camp, or even one of the free meal sites where homeless people could dispose of their trash. She picks up trash daily, but the only way to dispose of it is to illegally place it in someone else's container, she said.

As the cleanup progressed, vehicles passing by honked, people waved and gave thumbs up to crews doing the work. The cleanup was continuing through press time on Feb. 13. Personnel included nine members of the county road crew, two code enforcement officers, a parks employee and multiple sheriffs. The trash filled twelve, 10-yard dump trucks. Another ten dump trucks were needed for removal of the brush, to be burned later by the county. 

The dump fees are $600 per load for the trash, according to the sheriff's office press release.
The next phase of the project is what to do with the property. 

"We are looking for input from the public on the best use of the public space," Schmelzer said. A viewing platform, benches to rest and take in the view, a picnic area are some of the ideas neighbors and onlookers suggested. 

Ideas for how to use the space can be submitted to Schmelzer at schmelzerj@co.curry.or.us. If citizens want to report homeless encampments, Fortman recommended calling the Sheriff's Department dispatch at 541-247-3242.
This article was updated after it went to press with the final amount of trash and wood debris hauled away, the name of the arrestee, and dump fee costs.