South Coast Tours has a new boat and some big plans for the upcoming tourism season. Their 27-foot, 225 horsepower Honda motorized Bombard Explorer boat will add to the company's portfolio of outdoor adventures.
The boat is a "rigid inflatable" that South Coast Tours owner and guide Dave Lacey says is "nearly unsinkable."
"Rigid inflatable" means it has a fiberglass hull with the inflatable pontoons around the outside of the boat, he explained.
South Coast Tours, LLC is entering its eighth season in May. The business has grown exponentially.
"We sold 14 spots in 2012 and in 2018 we did 817 and grew again in 2019—but we have not run the numbers yet," Lacey said. "We offer freshwater and saltwater kayaking as well as stand up paddle boarding and fishing, surfing lessons, snorkeling, multiple types of van tours and now boat tours totaling 21 different options."
The company employs 5 seasonal guides, including Lacey and will have 6 in 2020.
"We pay a good starting wage of $20 per hour, and guides get a raise every year they come back for another season," he said. "Guides also get tips regularly, and are usually done with work before noon so they can have another job later in the day if they choose."
The Pilot caught up with Lacey to learn more about the new equipment and planned tour opportunities.
The Pilot: What made you decide to make this investment in a motorized boat?
Dave Lacey: Paddle sports are a small part of the visitor profile for the Oregon coast. Having this vessel will appeal to more people, a more diverse age range and to folks with different physical abilities. We are always looking for new ways to provide adventure. With all of our growth and success up to this point, I felt like it was time to make the move to utilize more horsepower to get visitors and locals alike out to see the amazing local geography and wildlife that inhabit the south coast.
The Pilot: What kinds of wildlife do you expect to see, and what times of year will you operate besides whale watching season? 
Lacey: We will likely see sea lions and seals year-round as well as a myriad of sea birds, both migrating and year-round inhabitants. We will mainly be operating May to October so we should see both north and south migrating grey whales in the nearshore as well as the local summer feeding aggregate whales that hang around all summer. On nicer days and with custom tours we will be finding humpback and hopefully other whales further out in the ocean. We will also be looking at custom tuna fishing trips!  Our boat is very fast so getting further offshore on those really nice days is an option for us. Pelagic birding trips (for seeing ocean birds only found at sea) will also be another available custom tour option.
The Pilot: When will you start offering tours? 
Lacey: We will start May 1 for everyone, but will be doing familiarity tours earlier for various tourism folks like front line staff, travel writers, press and visitor center volunteers.
The Pilot: What else do you need to do before you will offer tours?
Lacey: I will be going out a bunch to gain more boat time on this vessel for my charter boat license and working on the tour routes.  We will also need more equipment to start offering our scuba diving tours.
The Pilot: How many people can you fit in the boat? 
Lacey: We will be a 6-pack charter boat, so 6 clients plus crew. The boat can handle more, but for now 6 clients.
The Pilot: Who is going to captain the boat? 
Lacey: We will have 2 captains. Brian Kraynik from Coos Boat Tours in Bandon has been working with us for a couple of years now and myself. Brian has his charter license now, and I will have mine by April. SCT already partners with Coos Boat Tours for marketing and booking for his tours.  Brian's tours on the Coquille River in Bandon have been going for a couple of years now, so people can also book those trips on our website if they don't want to go on the ocean.
The Pilot: What length will the tours be, and where will you take people?
Lacey: We are thinking tours will be 1.5 hours twice a day, but that is still to be determined. Our first tours will be available in Port Orford at 8:30 a.m. and 10:30 a.m., 7 days a week from May into October. We will be seeing the amazing geological features of Orford Heads and Humbug Mountain as well as the Redfish Rocks Marine Reserve and Orford Reef complex.  We will be doing interpretation about the pioneer history, the native history and talking about the unique ecological characteristics of the critters we see along the way.
The Pilot: What other activities will the new boat make possible?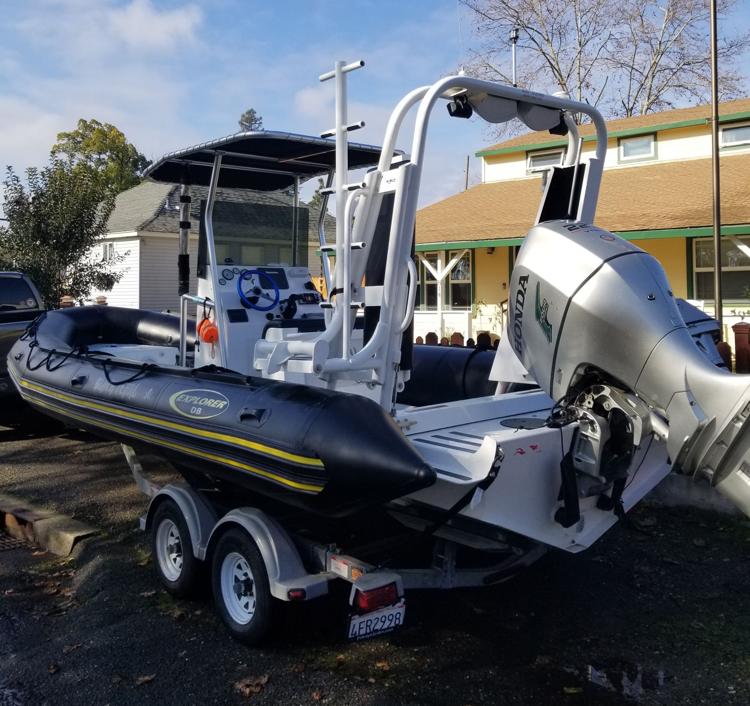 Lacey: We are also planning to be an option for the many research opportunities with the state and educational institutions like the OSU Port Orford Field Station and Oregon Department of Fish and Wildlife. Our vessel is equipped with a custom dive ladder and lots of deck space, which is good for diving research at Redfish Rocks Marine Reserve.
The Pilot: Will you be offering any tours from Brookings?
Lacey: I'm pretty excited about offering custom trips for groups out of Brookings up into the Arches Territory of Samuel Boardman and to Mack Reef. That will be a very fun trip!
The Pilot: What will the price range for tours be? 
Lacey: We haven't set prices yet, but are probably looking at around $65 per person.