The City of Gold Beach is weighing the pros and cons of a "road diet" after the Oregon Department of Transportation (ODOT) gave a presentation at the Jan. 6 City Council Meeting. 

The topic has come up several times over the past year through Gold Beach Main Street, according to the board packet.

A road diet is a technique in transportation planning that reallocates roadway space, according to an ODOT fact sheet. "The classic road diet entails reducing a 4-lane roadway to a 2-lane roadway with a two-way left-turn lane and bike lanes."

"During road configuration in the '60s, '70s, and '80s, it was pretty common to every town you went through that we would widen it out and put in 4 lanes through there," said Aaron Brooks, Region Traffic Manager for ODOT. "That's just what would happen. 

"Into the '90s and after 2000, we kind of looked back and went, 'Wait a minute. Four lanes isn't something we should be doing.' There's lots of problems with it — turning movements, crashes, speeding. Nowadays, we would never build a roadway anywhere to a 4-lane section… We have something (in Gold Beach) we probably wouldn't build now, so let's reconfigure it to what fits."

ODOT's study last summer revealed that reconfiguration for Gold Beach to 3 lanes is feasible. The annual average daily trips are 9,000 vehicles (measured in July), with 19% of those trucks and motorhomes. The 3-lane configuration can handle up to 20,000 vehicles per day, and July is the peak travel season.
The present configuration, which was designed to handle peak period volumes, is over-designed for the most common traffic volumes, according to ODOT literature. A wider roadway encourages drivers to travel faster than the posted speed limit, and it creates an unnecessarily wide cross-section for pedestrians crossing the street. 
"In a traditional 4-to-3 road diet, removing the left turns from through travel lanes will often reduce the number of crashes caused by stoppages in the travel lanes," according to ODOT.

"We don't have a bad crash problem," Brooks said. "There are crashes, and we have ways we can reduce them, but it's not some crazy safety issue. "From a 4-lane to a 3-lane reduction, we expect about a 29% reduction in crashes. The reason you are reducing crashes is because you are reducing conflict points.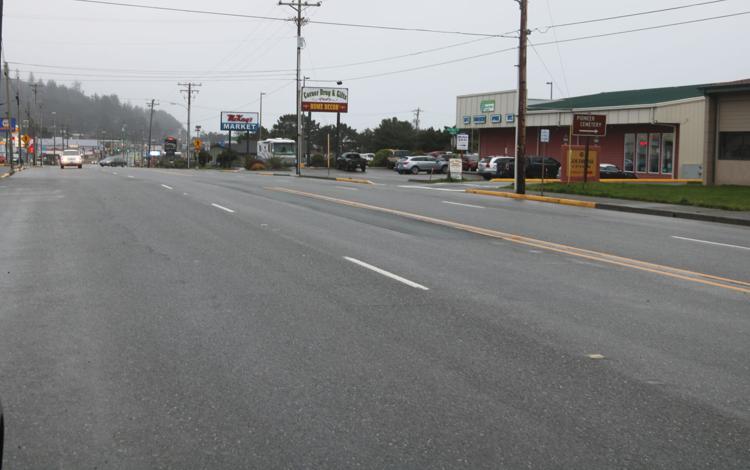 "The big one is that you reduce the speed differentials on your through traffic. Passing should never be occurring in your town, or people making up time racing through your town." 

Using a simulation tool, Brooks said he expected it would reduce speeds in town by an average of about 1 mph. The reconfiguration mostly drops the higher speeds because cars are following other vehicles. 

Reducing the number of lanes reduces the capacity of the roadway, but creates a more inviting environment for business and residential uses. Road reconfigurations can bring economic development benefits. 

"Business access and exposure improve and it provides better line of sight," said Jenna Marmon, ODOT Region Active Transportation Liaison. "Entering and exiting businesses is easier with a two-way left-turn lane."

It also encourages alternate modes of transportation and reduces pedestrian fatalities. 
"Slower speeds equal a safer environment for pedestrians," Marmon said. Road configurations make it possible for shorter and easier street crossings, especially with curb extensions and refuge islands in the center lane.

Marmon pointed out that Gold Beach came up as a top priority for improvements needed on the state's coastal bike route. 
Delays entering the highway and additional delays traveling from one end of town to another are the chief drawbacks, according to Brooks. "Other than delays, there aren't a lot of other trade-offs," he said. Time spent following other vehicles, side street delays of an additional 15-20 seconds, and some delays will occur during peak times over holidays are the main delays people experience.

Emergency services are a concern that comes up for some communities. 
"The center left-turn lane creates a clear path for emergency vehicles," said Darrin Neavoll, ODOT District 7 manager. 

The City of Port Orford recently adopted a road diet configuration, which allowed the town to have parking on both sides of the street, plus bike lanes. However, Gold Beach's street is narrower than Port Orford, so it would be a trade-off between having bike lanes or parking, but the street could be striped to alternate having parking on one side of the street or the other, Brooks explained.
City of Gold Beach public works and planning staff have concerns because Gold Beach has some specific and unique conditions.
"We want to ensure local conditions are also discussed and considered prior to making any recommendations to ODOT for future or proposed lane alterations," says a document listing the specific staff concerns.

"Staff concerns are based on public safety, and the efficient movement of people and goods within Gold Beach. Many of these concerns are date and time specific, but during those times, the impact to public safety, in our opinion, is increased dramatically." 
Some of the staff's concerns are:
• Gold Beach is the county seat, and has several public facilities accessed directly from Highway 101, including the fairgrounds, hospital, courthouse complex, county offices, courts, sheriff's office and jail. Queuing at the Moore Street signal can adversely affect the Sheriff's Office's ability to access 101 during call-outs/emergencies. 

• All city facilities are directly accessed from Highway 101, including city hall, fire and police departments, and public works. Adverse impacts to the Fire Department's ability to quickly access Highway 101 are of great concern. 
• Both Central Curry Schools are directly accessed from Highway 101. Every Central Curry student that rides a bus passes through the 6th Street intersection and signal.
• The only pharmacy in central Curry and the Curry Public Library are at one of the most used intersections by locals, which includes McKay's Market and Napa Auto Parts.
• Unlike Port Orford and Brookings, there are no complete Highway 101 north-south parallel routes. Critical facilities can't be accessed on just city-owned streets.

According to City Administrator Jodi Fritts, "I am really concerned about emergency services abilities to quickly access Highway 101."

Councilors are hoping to receive citizen input at upcoming meetings. 

"This isn't something that is imminent, and we are in the really earlier discussion stages so public input would be great," Fritts said. 

The topic is scheduled for 6:30 p.m. at the Feb. 3 regular Gold Beach City Council meeting.