Now, you can enjoy a "Happy Buzz" - a sunny, uplifting, pine pollen drink.
Or a "Queen of Hearts" - a beet root latte.
Or maybe an "Afternoon Delight" - an interesting cocoa and mushroom blend.
These are but a few of the exotic flavors offered at a nonalcoholic tonic and elixir beverage bar just opened inside Foxglove Wellness and Apothecary, at 511 Fern Ave. in Brookings.
Six bar stools at the counter, and a cozy seating area with a love seat and chairs, invite patrons to relax and rejuvenate with herbal teas and customized beverages. The drinks contain ingredients with properties that range from aphrodisiacs to energy producing, calming, warming or digestive aids.
The new elixir bar allows customers to try various products and combinations to see whether it improves how they feel.
"I wanted to create a low-key place to hang out that's not the bar scene," said shop owner Chelle Fraser.
"A popular drink in the alternative drink scene is made with butterfly pea, which turns the drink blue. Then, if you add citrus to it, the drink turns purple. It's a fun and colorful drink."
As the elixir bar catches on, Fraser hopes to extend hours on Thursday through Saturday, perhaps adding poetry or music some evenings.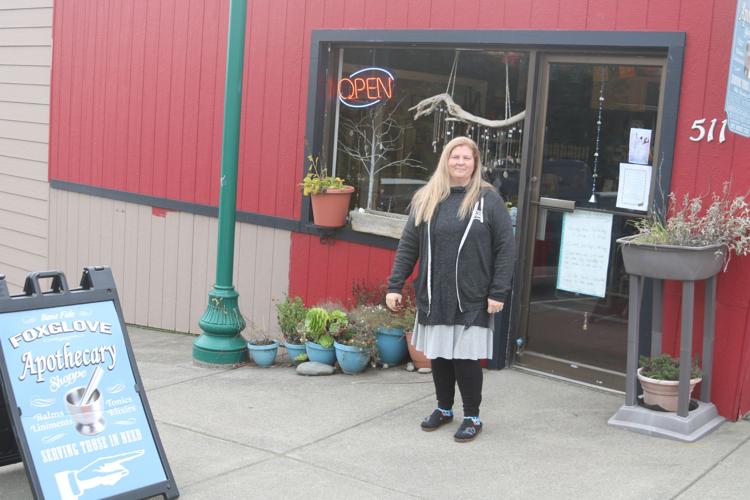 The herbal shop itself will be three years old in February. Fraser moved the entire business from Reno, Nevada, even to the extent of digging up her herb garden, now transplanted in Brookings.
The Pilot first learned about Foxglove at a Live Culture Coast event in October, where Fraser served samples of bitters mixed with carbonated water. Just a few drops added to the fizzing water made a satisfying, grown-up drink. No alcohol.
"As a culture, Americans are really not keen on a bitter taste," Fraser said. "They're not used to it. They're used to sweet, salty, savory. Bitter is one of our five tastes, but we don't really cater to it."
Elixir bar flavors range from vanilla (an aphrodisiac and calming), to Juniper (kind of tastes like gin and is a toning astringent for the body). Chocolate bitters are not sweet, but energizing. Bitter melon is traditionally used for reducing blood sugar, and good for diabetes.
"The key purpose of bitters is to aid in the processing of digestion and breaking down of food," said Fraser. "If you eat too much at a meal and feel bloated and uncomfortable, a shot of bitters will totally take care of it.
"It helps to speed up the digestion. Gentian root, orange and grapefruit are traditional bitters for aiding in digestion."
Some of the bitters are known for having healing properties. "Cherry bark is good for coughs, colds, sinuses and any kind of heavy, thick congestion, scratchiness. Oregon grape root is really good for urinary tract issues, gallstones, bladder infections."
Available warming flavors include clove, cinnamon and star anise. "When you talk about digestion, our key combustion is a big oven, and these warm and heat up that digestion."
Often, compatible flavors are combined, like a drop of cloves with orange bitters. Or chocolate, with vanilla and orange bitters.
All of the bitters flavors are infused at Foxglove, available in 2- and 4-ounce sizes.
But the bitters are just a fraction of what is available at the store.
Herbs, Salves, Lotions and Potions
Nearly 200 medicinal herbs fill the shelves behind the bar - jars of birch bark powder, angelica, myrrh, dragon's blood, devil's claw, mandrake root, milk thistle seed powder, Oregon grape root, Egyptian blue lotus.
Plus, plenty of other items probably not found in your home's medicine or spice cabinet.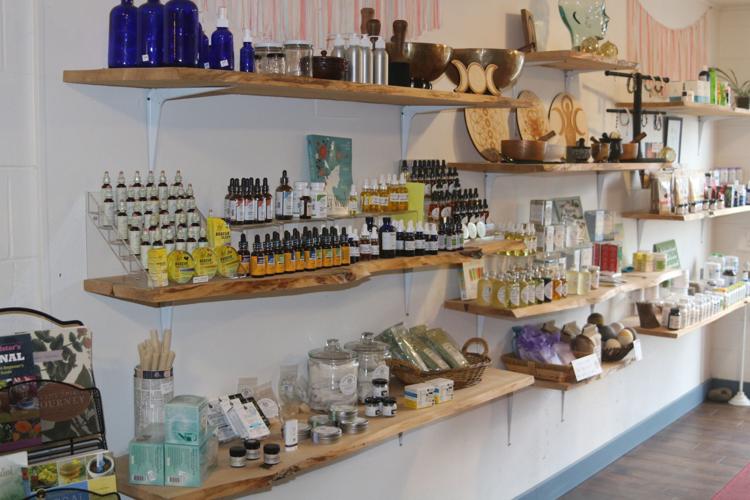 Some of the herbs come from Fraser's garden. Others are wild-crafted locally or carefully selected from organic sources.
The store's usnea tincture is made from a lichen that's widely available locally and commonly known as beard lichen. Fraser said it's a powerful antibiotic, but also used for weight loss, fevers and wounds.
And if you don't know which herbal remedies you need or want to try, the store offers numerous books as well as consultations.
 One of the shop's customer favorites is concocting custom fragrances, lotions, bath salts and salves. Imagine you're the next Giorgio Armani or Coco Chanel, as you create your own personal fragrance out of naturally sourced, wild-crafted, organic or local ingredients.
To create that custom special fragrance, customers sit at the bar and try various combinations a drop at a time, until they find one they want to have custom blended. Maybe try something like a hint of vanilla and orange, with a splash of carnation?
The shop is a fun place to book private classes and parties, where each member of the group can make their own healing salves or bath salts to take home or give away as gifts. All while enjoying a relaxing beverage, good company, and learning about healing and soothing properties of plants.
You can find supplements, leather-bound blank journals, candles, crystals, readymade scents like Brookings Bay Moon signature scent, or Gold Beach scrub soap, or Chetco gold soap, lip balms, essential oils, gemstones and crystals, metaphysical supplies, natural bath sponges and brushes.
The soaps are Fraser's recipes custom made for her by a company.
The tiny shop is packed with many curious items. Fraser is more than happy to share her knowledge of them with you.