Brookings resident Ruby Roberts says she is extremely grateful to an anonymous donor who helped fund a life saving operation for her little dog, Skeeter.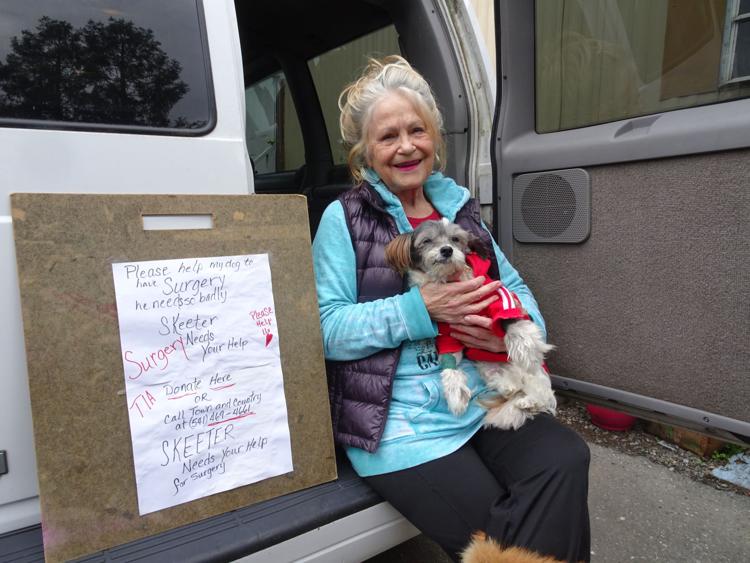 Her friendship with Skeeter began in 2015 after Roberts was introduce to the dog at the Humane Society in Bookings.
"When I met him, I didn't think it would be a good match," she said. "I didn't think I would be comfortable carrying him. He was 8 years old and had no teeth."
But the Humane Society staff encouraged Roberts to take the small dog into a room and spend a few moments with him.
"I still didn't feel there was a match," she said and Roberts left the Humane Society to go shopping. But something drew her back to the Humane Society just a short while later that same day on Oct. 22, 2015.
"His eyes," she said, "and the phrase, 'Just One Look, That's All It Took, from a popular song."
Roberts and Skeeter have been together ever since.
But about six months ago, Roberts noticed that Skeeter had developed a golf-size growth under his left ear.
"He was still happy, frisky, eat well and went to the bathroom well," she said.
Still, Roberts was concerned about Skeeter's health and she went to Town and County Animal Clinic in Brookings to seek medical advice about what the growth might be. In early September she learned Skeeter had a tumor.
Roberts, who is a retired barber living on a fixed income, said she couldn't afford the cost of $670 surgery to have the tumor removed. So she decided to seek public help.
Roberts and Skeeter launched their effort on Monday, Sept. 30.
"I went down to the entrance of Fred Meyer where I've seen homeless people holding signs asking for help," she said.
Roberts set up her spot on the sidewalk with water and food for Skeeter, held her hand made sign asking for help for Skeeter's rumor surgery and then she hoped. She said a few people stopped to meet Skeeter and donated some money for his surgery. A close friend also donated $100.
Than a stranger approached Ruby and Skeeter.
"He ask where he could go to make a donation," Roberts said. "I told him Town and Country Animal Clinic, which was holding the money that was being collected."
Roberts said the man left and she waited a few more hours at the site before deciding to leave for her home. As she loaded her van with her belongings from the sidewalk, she also called Town and County Animal Clinic to check her account to see how much more she needed to raise for the surgery. Roberts said she was surprised when the animal clinic operators told her a large donation had been made to pay the entire amount for Skeeter's surgery.
"The clinic told me I had a credit to my account for $670," she said. "I was extremely grateful."
Roberts said she believes the large anonymous donation had been made by that same man who had visited her on the sidewalk earlier that day.
Roberts give the Pilot the following statement she wrote following the donation, asking that it be included in the story about Skeeter. In part, the statement reads:
"When I was a lil' girl I would sit on the floor 2-3' from my TV and one of the programs I loved was 'The Lone Ranger.' Always when you thought there's no hope all of a sudden, The Lone Ranger came just in the nick of time.
Yesterday morning I prayed the Holy Spirit to guide my footsteps throughout the day, to bless my efforts and to bless those who I come in contact with.
My question is, "who was that masked man?"
He will forever be my Lone Ranger."
Town and County Animal Clinic Dr. Jessie Holley said Skeeter's operation was conducted on Monday, Sept. 30.
"The tumor was removed and it was a good outcome, but there is a chance that it could return," Holley said. "In many cases, cancer in dogs is not curable. Skeeter is such a good dog. We just want to keep him comfortable and we always hope for the best."