Monarchs from Brookings are making a big impression, as the butterflies are being counted in overwintering areas of California.
The Brookings Oregon Monarch Advocates (BOMA) raise butterflies from eggs found in deliberately planted monarch butterfly "waystation" gardens. The eggs hatch into caterpillars, form cocoons, then emerge as monarch butterflies, which are tagged before being released.
Of the 4,224 monarchs tagged and released in the Pacific Northwest, 2,901 (88.8%) were the offspring of Ovaltine, a butterfly that laid her eggs last July in Holly Beyer's waystation in Brookings, according to a Dec. 13 Facebook post on Monarch Butterflies in the Pacific Northwest.
Of the tags recovered so far this year, 74% originated from the Brookings brood stock.
The endangered butterflies have been closely monitored by the Pacific Northwest group since 2012. This is the second-highest yearly number since they began.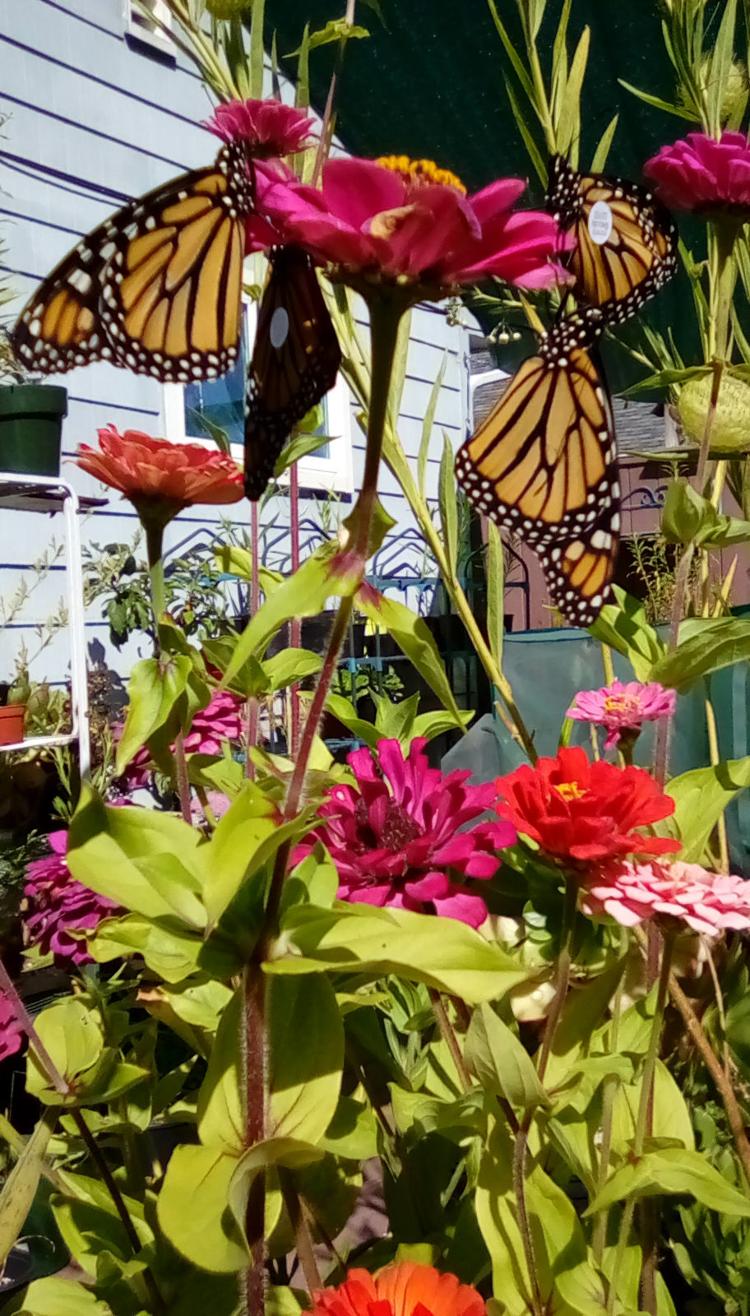 "Without Ovaltine and Holly, we would have tagged only 1,323 monarchs in the (Pacific Northwest) this year, which would have been the lowest total since we began tagging," according to the post.
One of Beyer's tagged male butterflies, G0927, was found at the Presidio park in San Francisco on Dec. 16, resting on a car during the cold weather. Jean Koch of San Francisco placed the butterfly in vegetation for protection.
Released by Beyer on Sept. 30, that butterfly had flown at least 310 miles to reach the Presidio.
Another Brookings butterfly, Miranda, released Sept. 21 by Dennis Triglia of Brookings, was found at Natural Bridges in Santa Cruz on Nov. 3, and then again a few miles away at Lighthouse Field on Dec. 15, a distance from Brookings of at least 455 miles.
And another female butterfly found at Lighthouse field on Dec. 10 had been raised by Belinda Vos of Talent, Oregon and released Sept. 14. Monarch G1109 originated as an egg in Brookings and flew at least 593 miles.
The butterfly season in Brookings began slowly this year. "We were all worried we wouldn't see any monarchs, and then on July 2 came Ovaltine, who returned daily until July 13, except for two days when we had fog," Beyer said.
"She laid approximately 50 eggs a day, with a total of 588.
"Ovaltine's kids then were tagged and released. They mated, resulting in 3,300 eggs in my yard alone.
"All of Brookings got 'egg-bombed' from this flurry of butterflies, as did the state of Oregon. We fostered out hundreds throughout Oregon for people to responsibly rear them. Kudos to all involved."
Beyer continues to raise butterflies. The last eggs this season were laid on Halloween and raised in an enclosure outdoors for 45 days. Usually, they live as caterpillars for only about two weeks.
After being brought inside a few days ago, they have tripled in size as caterpillars. They will become butterflies sometime in January, which she says is "unheard of in Brookings."
Monarch butterflies are threatened with extinction because of habitat loss and climate change, according to National Geographic. The only food that monarch caterpillars eat is milkweed, and increasing levels of carbon dioxide are making it too toxic for monarchs to tolerate.
Beyer said a great way to start helping the butterflies is by planting milkweed and nectar flowers, especially using plants that are native to this area.
"Make sure when buying nursery plants that neonicotinoids (neuroactive insecticides) are not used on them," Beyer said. "This is another new threat.
"I would love to see monarch butterfly safe zones created in Brookings, with no pesticide or herbicide use in our parks and neighborhoods. All pollinators are threatened and it is up to us to stop the use of poisons."
Brookings Oregon Monarch Advocates plans to conduct clinics this year to teach people about creating their own monarch waystations, growing milkweed, and raising and tagging the butterflies.