Smoke from faraway fires in both Oregon and California are clogging the air in Brookings.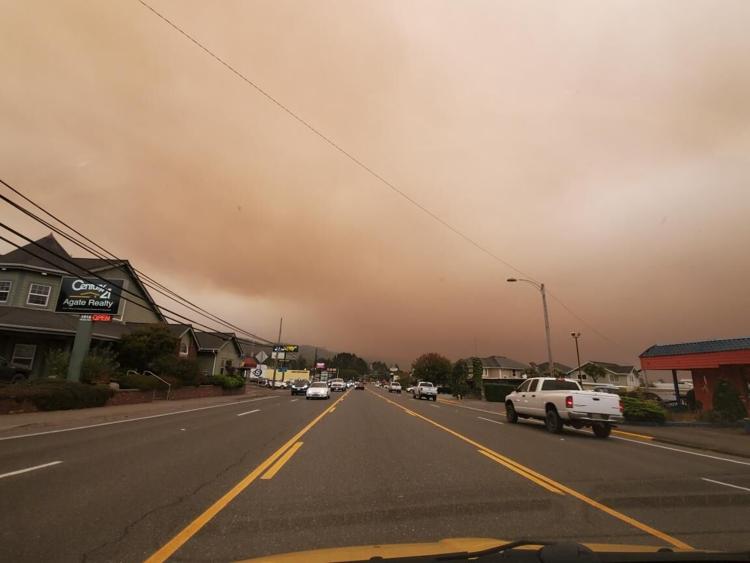 Marc Spilde, meteorologist from the Medford National Weather Service, said smoke from the Slater fire out of Northwest Siskiyou County, east of Del Norte County and from the Red Salmon Fire to the south of Del Norte County, has blown north.
Spilde said the best bet for winds to blow the smoke out offshore will be by Thursday.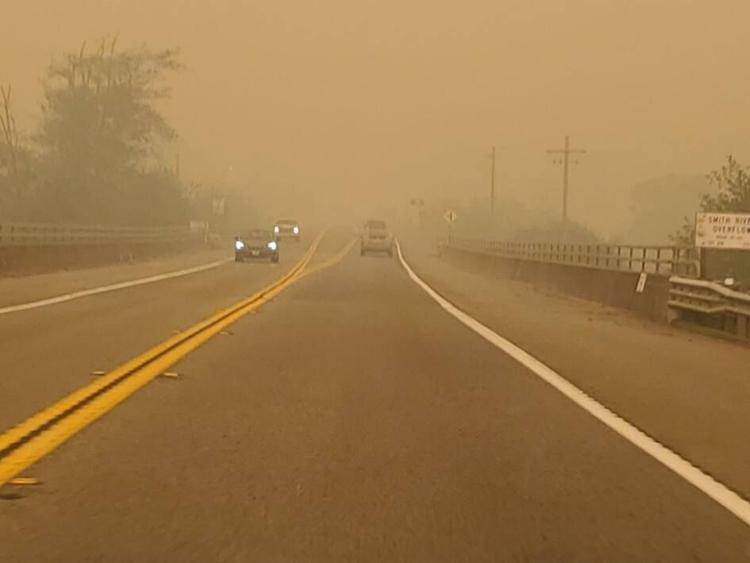 He added fires in Oregon are only adding to the clogged air.
"We're getting a lot of fires. You watch the satellite radar and see a pimple of fires that just explode," Spilde said. "There's one in Bandon, one east of Roseburg towards Steamboat, and one near Talent and Ashland that has closed Interstate 5 from Central Point to Ashland."
The wildfires have closed Interstate 5 (I-5) in Southern Oregon from South Ashland to Center Point, according to reports.
Spilde said he didn't know how long the I-5 closure would last, adding there is a ton of smoke, some of it thick and black, indicating burning structures.
Heavy smoke from fires up and down the West Coast is creating hazardous driving conditions in Oregon, according to the Oregon Department of Transportation (ODOT).
For those who aren't evacuating, the safest option is to stay off the roads in smoky and low visibility conditions, according to ODOT. High winds and wildfires also create other hazards including downed limbs and power lines. Remember to check conditions if you must head out.
A number of roads are closed throughout the state and the situation is rapidly evolving. Go to Tripcheck.com or call 5-1-1 for real time road conditions.
In the middle of these dangerously smoky road conditions, a number of DMV offices are closed throughout the state due to wildfires or power outages. Closures are posted on webpages for DMV field offices. In the event of a closure, DMV will contact customers with appointments.
ODOT said there may see additional smoky conditions in the weeks ahead. Remember to avoid driving in these conditions if at all possible. If you must drive, be alert, don't drive distracted and remember you play a big part to help avoiding wildfires.
If you are driving and encounter heavy smoke ODOT provides the following steps you can take to help stay safe.
Slow down and stay alert. Slow driving gives you more time to respond to unexpected conditions.
Turn on your headlights. Even during daylight hours your headlights will help others on the road see you. Use low-beams as high-beams reflect off the moisture in the air and cause glare.
Use fog lights. If you have them, fog lights can help cut through the smoke.
Check your entire route before setting out. Conditions may be very different at your destination.
Find an alternate route. Fire is wildly unpredictable, especially in high winds. If at all possible find a route that takes you away from fires.
Keep plenty of space between you and other vehicles. Visibility, of course, decreases in smoke so maintain a safe stopping distance between you and the vehicle up front.
If visibility becomes too dangerous to continue, pull off to the side of the road as soon as safely possible.
Never stop in a travel lane. Look for a safe area completely off the road if possible and turn off all lights, including flashers, until it's safe to continue.
Don't tailgate. Keep a steady, reliable pace. Remember that everyone else on the road is in the same fix you're in. They're counting on you to help show the way.
Roll up the windows. Set your fan to recirculate.
Have your car ready before you go. Make sure you have a full gas tank before leaving and your vehicle is in good condition. Have water, food, and medications with you – and for any pets you bring.