UPDATE: According to the Curry County Sheriff's Office, Mia Elizabeth Renaldo was located last night and returned to her family. 
Previous Coverage:
The Curry County Sheriff's Office is asking for assistance in finding a 14 year-old girl who has been missing since Tuesday. 
Mia Elizabeth Noriega-Renaldo was discovered missing from her residence on Sitka Lane by her mother, Elizabeth Howell, sometime after 9:30 p.m. on May 25, according to a May 27 press release from the sheriff's office. 
"[Noriega-Renaldo] took a large amount of personal property with her, so it appears she had planned on an extended absence," the release stated.
It is currently unknown where Noriega-Renaldo may have gone to, however, her biological father lives in Southern California, according to the report.
The sheriff's office has reached out to the father.
Noreiga-Renaldo has been listed in the state's missing person database. The Curry County Sheriff's office ask that the public be on the lookout for Noriega-Renaldo. If you or anyone you know has information concerning the whereabouts of Noriega-Renaldo, please contact the sheriff's office at (541)-247-3242 or (800) 543-8471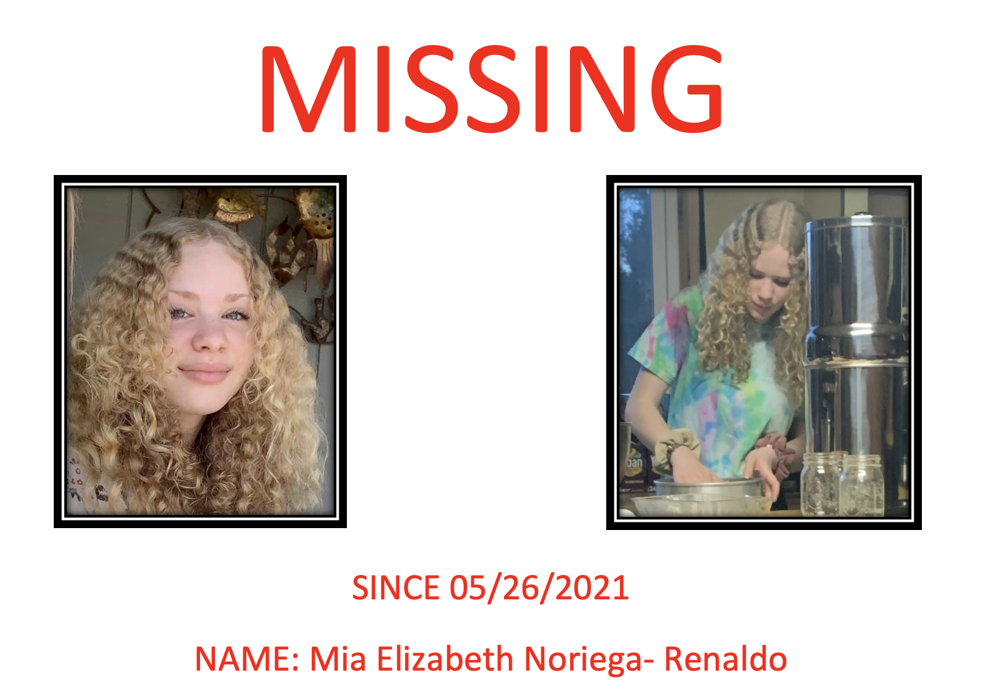 NAME: Mia Elizabeth Noriega- Renaldo
DOB: 04/23/2007
AGE: 14
SEX: Female
RACE: Unknown
EYES: Blue
HAIR: Blond
WEIGHT: 115 pounds
HEIGHT: 5'4"
GLASSES: Unknown
WEARING: Unknown actual clothing description but should be carrying a small yellow purse and blue and white stripe bag. She also took the following items with her: White Nike Air White canvas shoes, Green Local Boys Surf & Skate hoodie, Blush pink windbreaker hoodie, Black Hollister jeans, light blue Hollister jeans, grey sweatpants with multicolored butterflies, a white make up bag with black letters that says, "this bag contains my face", Newly purchased stackable silver rings, new rose gold ring with blush colored large gem.
LAST SEEN: 05/25/2021 @2130 hours at home.
IF YOU SEE THE ABOVE LISTED JUVENILE OR HAVE ANY INFORMATION, PLEASE CONTACT:
The Curry County Sheriff's Office
(541)247-3242 Ext 0