Candle lights flickered, warming the inside of Mason jars. They reflected on handcrafted hearts that lined the grass of Beachfront Park in Crescent City.
Into the chilly evening, bright sky lanterns floated up to join the stars.
"I miss him, Mommy," young Claire Moore told her mother.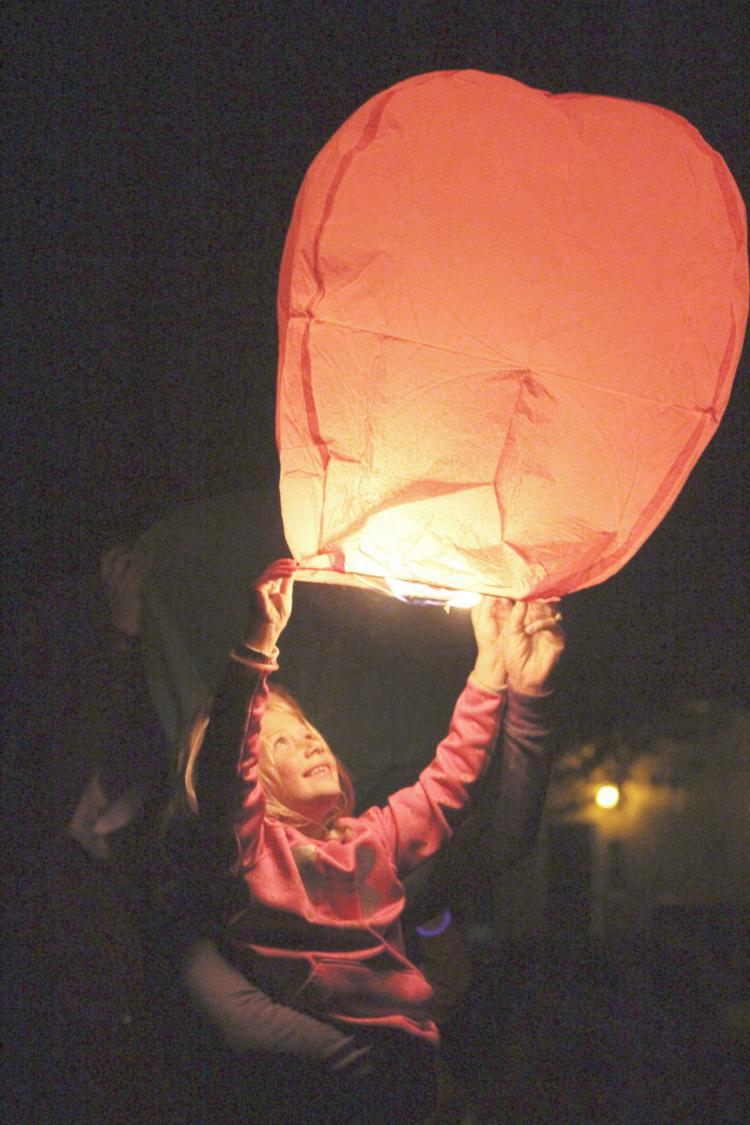 Lizzie Moore and Kimberlee Budiner hosted their fifth "Light up the Sky" event last Sunday evening at the park's pavilion, providing families a space to remember their children who have passed away.
Moore and Budinger have hosted these intimate gatherings for those who wished to share stories and pictures of their lost children. Under the pavilion, they hang Christmas lights, and set up tables with photos, tissues, coffee, snacks and a cake.
Along the grass, they place jars lit by candles, with names pinned to them.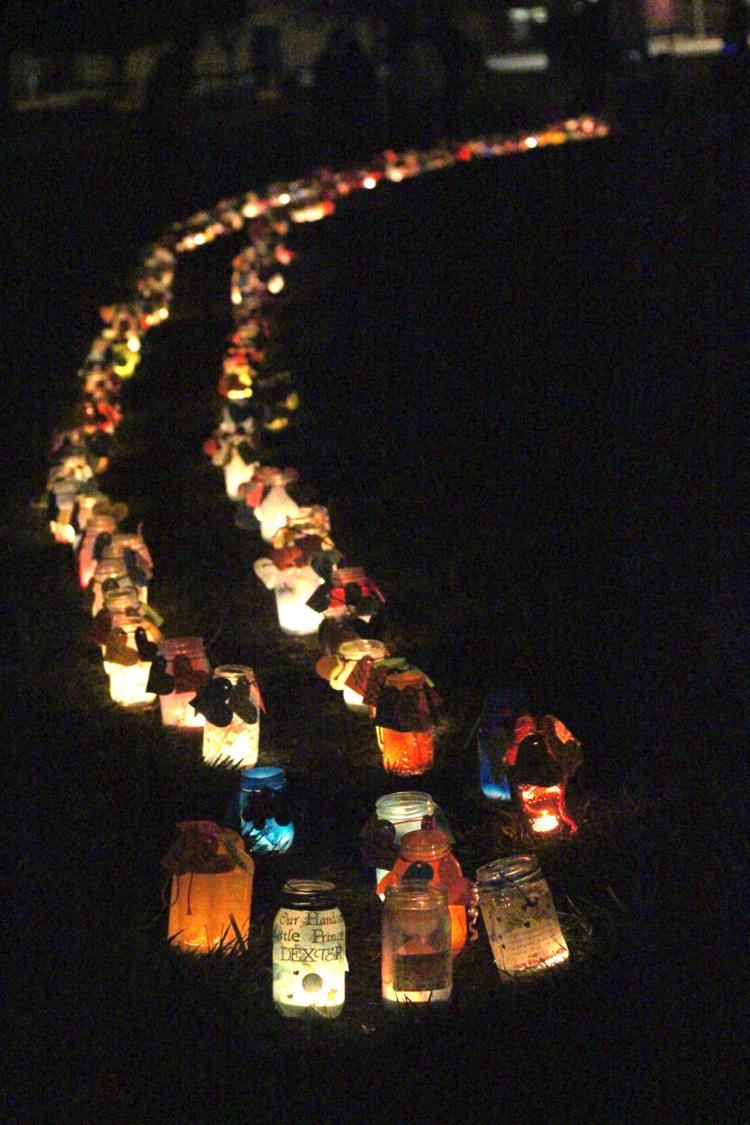 The evening ends with families lighting sky lanterns for their children and sending them out over the ocean.
"I wanted something that was going to go up to heaven. You know, something you could send off to your child," Moore said.
"They're just beautiful. It's really amazing to watch that many fly up into the sky and just know that somebody sent that to their child, like a kiss or a hug."
After Moore lost her son Dexter in 2012, she suffered alone, unaware of others who had suffered similar traumas. Eventually, she thought to herself, "I can't be the only one."
She began reaching out to women on Facebook who had lost their children, becoming close friends with Budinger and another woman, Forest Sky Clayberger.
After finding comfort in a shared experience, Moore decided to host "Light up the Sky" to remember her son and to let others remember their children through a ceremony of light. She, Budinger and Clayberger worked together to host the first ceremony, in 2014.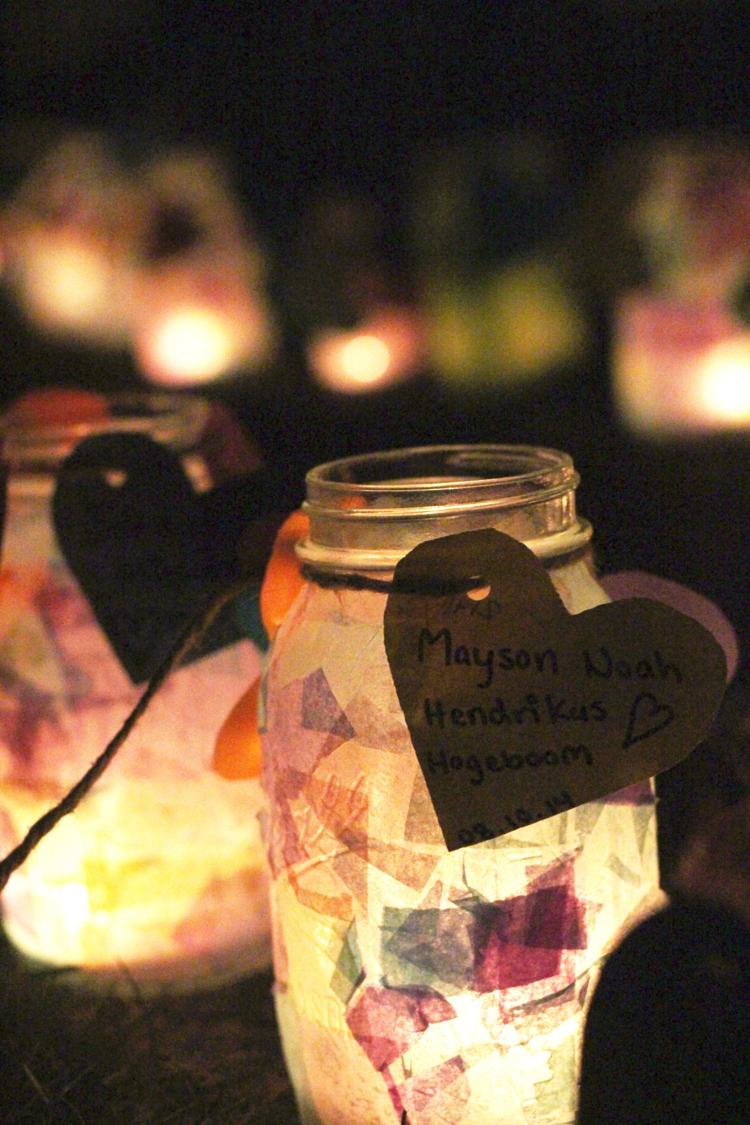 The next August, Clayberger died in a car accident. A picture of her and her baby graced one of the tables at the Beachfront Park pavilion on Sunday.
Forty to 45 people came to the park this year, although people from all over the world participated by requesting on Facebook that their child's name be written on a heart. One woman trekked from Ukiah, California, roughly a 4½-hour drive.
When they first hosted "Light up the Sky," they honored 40 children. This year, more than 6,000 children's names were written on hand-cut hearts that hung from the illuminating Mason jars, each name a lost child. Some names were from families as far away as Africa.
The community reaches beyond Del Norte County to families across the world who have connected through Budinger's Facebook page, "Elijah's Tropical Sunshine," which honors her children who have passed away. "It's my way of grieving. I started helping people after my son died," Budinger said.
"Connecting to others that are going through the same thing I am, they understand where I'm at and I understand where they are at. And it's just kind of a safe community for us."
Through the online community, the women have found solidarity through what Moore calls the "crappy club."
"[It's] a super isolating feeling, but then when you open up, you end up finding a lot of other people who are pretty much are in the same crappy club that you can never get out of," Moore said. "Solidarity heals, I think."
Talking with other moms who have lost their children has helped Moore become bold in talking about her boy. She said that people view talking about deceased children as taboo. "I try to break the silence, like you don't have to hide it," she said.