Local fire officials say a blaze that destroyed a local home does not appear to be suspicious in nature but the exact cause was still under investigation as of Monday night, Oct. 14.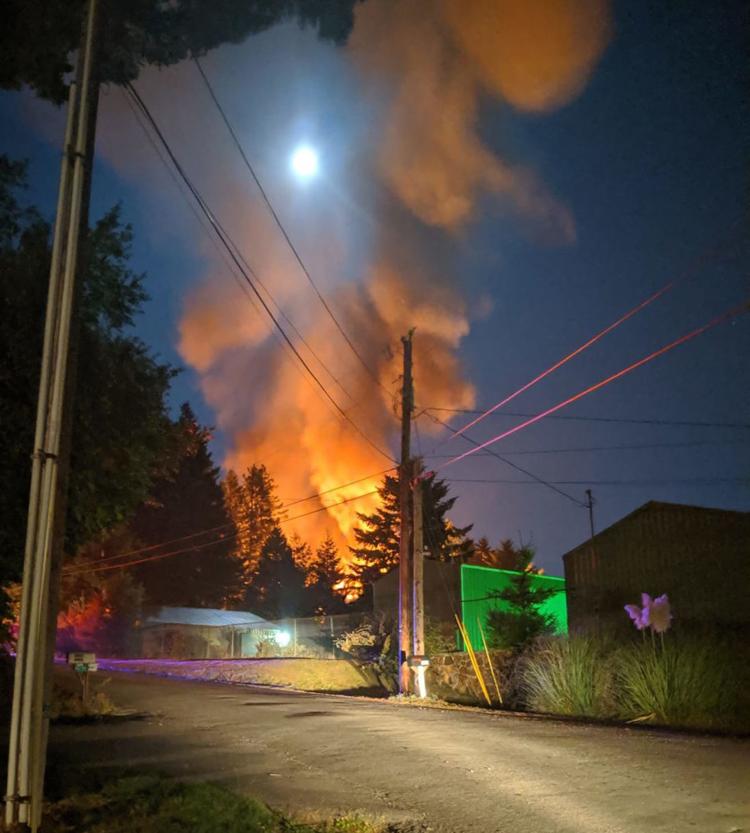 Following multiple 911 calls shortly before 10 p.m. Sunday night, Oct. 13, Brookings and Harbor Fire & Rescue Department crews were dispatched to the structure fire at 17535 Ross Lane in the Brookings Rural Fire District.
Callers to the 911 dispatch reported that the structure was fully involved in fire.
According to Brookings Fire Department Operations Chief Jim Watson, the first arriving fire unit arrived on scene at 10:06 p.m. and while in route the crew called for mutual aid from Cape Ferrelo and Winchuck Fire Departments for water tenders because the incident is outside of the established fire hydrant system.
Personnel and equipment from the Crescent Fire District, Smith River and Gold Beach were also called to the scene to provide additional manpower.
"Altogether there were about 40 firefighters that fought the fire," Watson said. "It was reported that there was a large amount of ammunition in the residence and early on as fire units were arriving the ammunition cooked off, in which the gun powder starts to burn inside the brass."
No firefighters or civilians were injured during the fire. Watson said the resident who was the only one at the structure when the fire broke out was out of the building when fire units arrived on scene and was not injured. The homeowner's dog apparently ran off as the fire broke out.
"During the fire his dog came back to the residence and was reunited with its owner," Watson said.
As the structure fire was winding down a call for an unattended fire on Chetco Point was being reported at about 3:30 a.m. on Monday, Oct. 14. A fire officer from Brookings Fire & Rescue responded and found the fire to be an abandoned campfire down a steep embankment to the beach that had spread to a large pile of driftwood.
Fire units from the Ross Lane Fire were sent to combat the Chetco Point blaze.
In all, 13 firefighters from Brookings, Harbor, Gold Beach and Smith River responded to the blaze which took about two hours to extinguish and mop up.
Watson said at 4:33 a.m. on Monday, 911 dispatch received another fire call of a possible garage blaze on Woodruff Lane. Smith River, Harbor and Brookings units who were clearing from the Ross Lane Fire responded to the area and found that it was actually Halloween decorations that were mistaken for a fire.
Watson said it appears that both of the actual fires were caused by unattended outside fires.
"The local fire departments would like to remind everyone to attend their fires at all times when it is burning and to ensure the fire is dead out before leaving the area or retiring for the evening," Watson said.