"The county is trying to put us out of business," said James Hart, who operates a 501(c)3 nonprofit mini horse rescue, West Coast Minis, Inc. near Brookings. Hart says he is in good standing with the state of Oregon in all aspects of his operation.
He loves his own little herd of ambassador mini horses. He rescued them and continues to rescue others from breeders on the East Coast to prevent them from being sold at auction as meat for zoo animals. He then transports them to the West Coast to be adopted out after they have been quarantined for 30 days after arrival to ensure they don't bring any equine diseases into the area. But now the County says he needs to apply for a conditional use permit (CUP) and obtain a business license. Hart complied with getting the business license, but needs to raise funds to apply for the CUP, which costs $2,000.
COVID has taken a toll on the nonprofit's operations. "It has hit us hard," Hart said. "We only have a couple of volunteers left and it's difficult to actually make any progress when all we can do is care for the horses."
The organization operates off of donations, volunteers and adoption fees. "They cost us money. We don't make anything." Hart says they generally lose money with vet bills and the current high cost of hay at $18 a bale. Those extra expenses come out of his own pocket. "It costs us a fortune, but we love doing it."
The farm looks like any other farm in the neighborhood, and the animals are well cared for — clean, groomed, hooves trimmed, well fed, healthy and happy. The barnyard was tidy and did not smell of manure on The Pilot's visit. The furry little critters more closely resemble big dogs than horses.
He takes his ambassador minis to nursing homes and the library for kids story time. Vets and special needs kids come up to visit them. "It's a miracle what they do to these special needs kids," he said. "Some of those kids just don't talk, and when they come up here, you can't shut them up." Hospice workers also take the tiny horses to visit their patients. He doesn't charge anything for the ambassadors to provide companionship and therapy. "We want to serve Curry County, but if the county is going to charge us to do it…"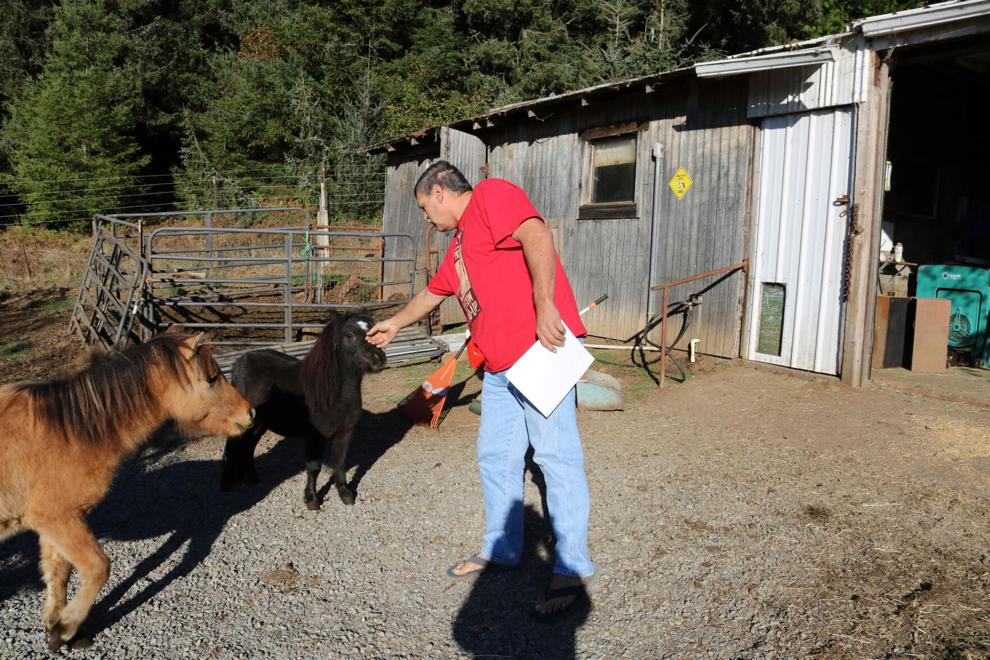 Sylvan, Betty Boop, Mikey and Prince Charming bolted out the barn door to find the Asian pear tree and some apples before coming back for hay. "It sounded a like a stampede when they headed for those apples," said volunteer Haley. Prince survived the 2018 Camp Fire and spent six months at UC Davis recovering from burns afterwards. Another mini, Moon who is blind, is paired with another mini who stays beside her at all times and prevents her from running into things.
"They said I need a special use permit because I have horses, but everyone around here has horses," said Hart. There's also a sheep farm right up the road. He has six and a half acres that are zoned RR-5, Rural Residential with a five acre minimum lot size. He was issued a 14-day warning notice on Oct. 14 by Code Enforcement Officer Dave Fortman instructing him to obtain a business license and to obtain a conditional use permit (CUP) for violations of Zoning Code Sections 3.130 and 3.132, which are found under the county's zoning ordinances for Rural Commercial (RC), and not under the sections that pertain to RR-5, which allows farming as an outright use.
According to Hart, Fortman told him there's a parking problem and that it smells. Fortman has described his work for the county at a Board of Commissioners meeting as being "complaint driven."
"There is no smell here and there is plenty of parking," Hart said. "The only time there are a lot cars here is when we have meetings."
The Pilot reached out to Dave Fortman for clarification. He declined to comment by phone, saying that he doesn't discuss "open cases." When pressed for clarification about the laws cited in the warning, he referred the matter to Becky Crockett, County Planning Director.
Crockett responded by email, and believes that a CUP is still needed even after learning that the nonprofit doesn't board the horses, but does quarantine them before adopting them out. "That would qualify for boarding them," she said. "Whether for profit or not, he is still boarding them. The Code is clear on this issue so there is not a lot of discretion in regards to the interpretation. As the Planning Director I don't have an alternative interpretation when the Code is this clear."
Under RR-5 zoning regulations, Section 3.082, Conditional Uses Subject to Administrative Approval by the Director, paragraph 8 lists horse boarding and training for profit as a use requiring approval, "The employment of land for the primary purpose of obtaining a profit in money by stabling or training equines." The code does not address not-for-profit stabling and training uses.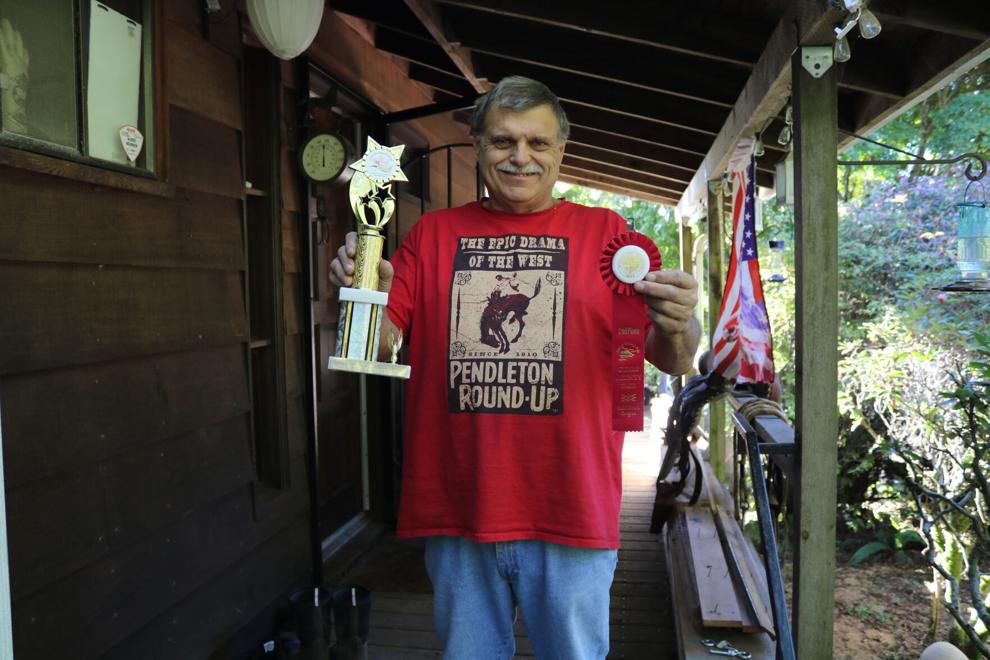 Since the business is a nonprofit, the Planning Director's comment is confusing at best. All Hart knows, is that if he can't raise the $2,000 to apply for a CUP that he doesn't believe he needs, he will likely have to cease operations. If a citation is issued, a maximum fine of $2,000 can be imposed.