'Kiddos need their food'
All hands were on deck on Monday, March 16 as food service workers and volunteers prepared 600 bags of food. "It's a daunting task but with many hands, it's coming together," said Lynn McPherson, who was one of about 20 workers packing bags of food at the Brookings Harbor High School (BHHS) Cafeteria.
"We are trying to include enough inside the bags to help supplement for a few days," said Brookings Harbor School District (BHSD) food service manager Cindy Badger. They packed 600 bags of food for Tuesday alone to be distributed to students at the cafeteria and via bus.
"We will do the 'reverse bus routes' again on Friday morning to take food to our regular bus stops at the usual morning time," said Nancy Raskauskas-Coons, BHSD public information officer. Meals will also be available at the cafeteria.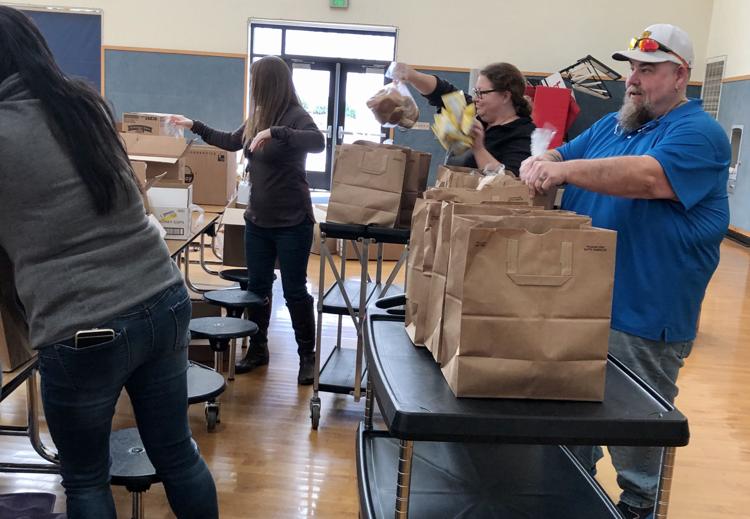 Meanwhile at the Brookings Community food bank, nearly a dozen volunteers, including the Brookings Harbor Food Bank along with community kitchen volunteers, BHHS leadership students,  Board of Directors from Brookings Harbor Education Foundation, members of the Brookings Church of the Nazarene and the Neighborhood Food project and Azalea Princesses, showed up to put together 800 snack packs for kids.
"We just heard there is a need, so here we are," Sarah Burd said. "Kiddos need their food."
The snack packs from the food bank were to be distributed at the BHHS Cafeteria site on Tuesday and again this Friday from 7 a.m. to 10 a.m. along with the school district food bags for student families that qualify for free or reduced-price meals.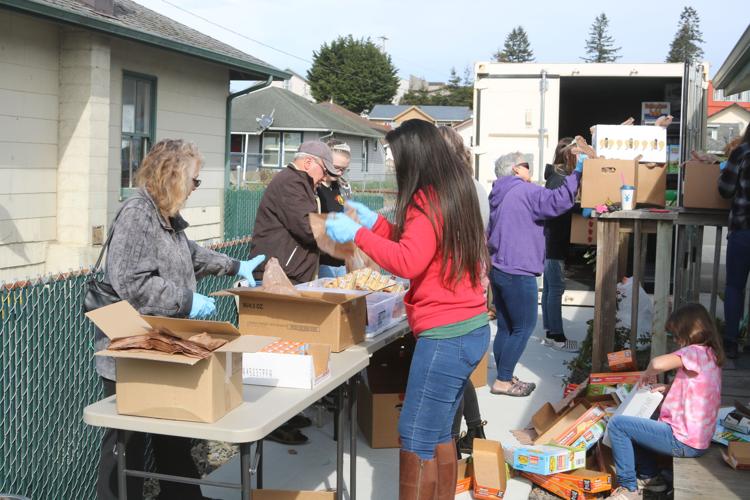 The food bags being packed at BHHS contained applesauce, juice, breakfast bars, apple strudel, chips, condiments, pasta, spaghetti sauce, bread rolls and apples. Refrigerated bags included salads, vegetable mix with salad dressing, cheese, lunchmeat and milk.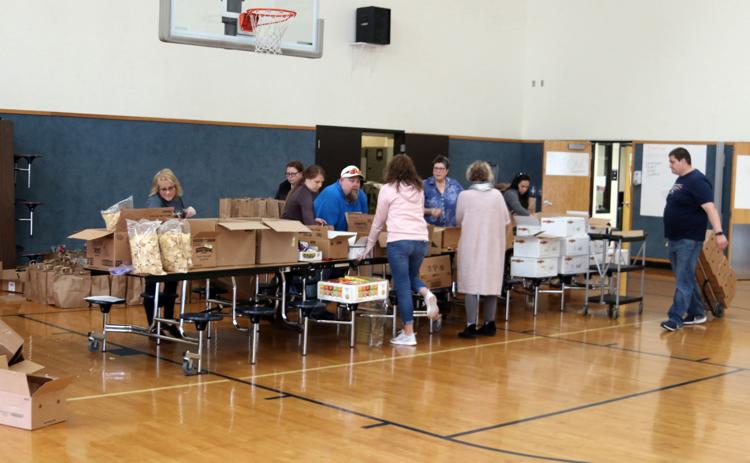 The snack packs put together at the food bank consisted of either milk or juice, applesauce, fruit snacks, crackers and granola bars. The food bank group put together 800 packs on Monday, and will pack another 800 to 1,000 packs for Friday.
BHSD has not received word whether they will be distributing food next week since food is not usually distributed during spring break.
Central Curry School District 1 is providing meals from 9-11:30 a.m. at Riley Creek School in Gold Beach to children ages 0-18 through Friday this week, and again on March 30-31. "This is a grab and go meal," said superintendent Tim Wilson.