In the decades before the First World War, an organization called Chautauqua arose that was something like a summer camp for grown-ups.
People would take vacation time and travel to the Chautauqua center and stay there in tents, either brought from home or rented on site, for a week, or two weeks, or even longer. There, they'd take classes, attend lectures, listen to band concerts, play baseball, and generally try to make up for the previous year's intellectual deprivation.
In Chautauqua's heyday there were a number of these centers across the country, and President Theodore Roosevelt famously declared them to be "the most American thing about America." And the biggest one west of the Rockies was in Gladstone, Oregon.
The Chautauqua movement had its start in New York state in the early 1870s, when Bishop John Vincent of the Methodist Church and Lewis Miller, an inventor and manufacturer from Ohio, launched it as a training program for Sunday School teachers. Their idea was that the Bible should be taught in the context of worldly cultural and scientific knowledge, rather than in isolation.
The outdoor-summer-school style was Miller's idea, and he had to sell it to Vincent, who associated that sort of thing with raucous, undignified tent revivals. But Miller convinced him at last, and the first of these new Sunday School training camps was held in 1874 on property the Methodist Church owned, on Chautauqua Lake in New York.
It was an immediate hit. The two organizers had planned for maybe 100 people, and 500 showed up for the one-week event. Realizing they were onto something, Vincent and Miller brought it back the next year substantially bigger. By 1879 it was attended by 1,000 people and lasted 43 days. By the end of the century it was two full months long and hosted many thousands.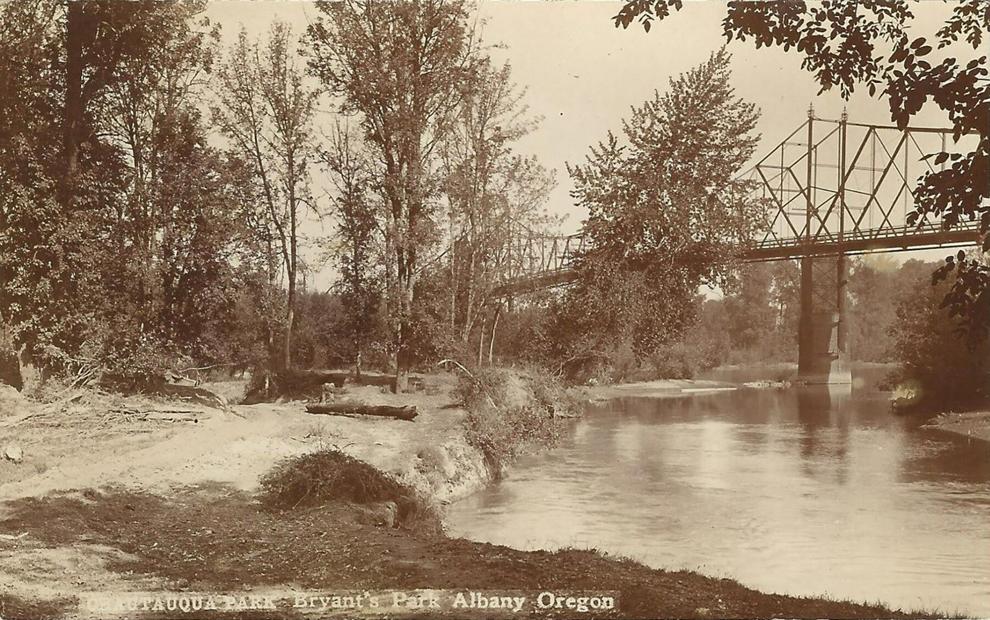 As you can imagine, this "summer-camp self-improvement and educational refreshment" model appealed strongly to the very sorts of hard-working builders that were most likely to have gone west on a wagon train 20 years earlier. But those Western homesteaders and community builders couldn't travel all the way across the country to New York to partake. So, they started forming their own organizations based on the Chautauqua model, establishing them like nonprofit repertory theatres.
So the Chautauqua model became a movement and that movement became one of the defining features of pre-First World War American frontier society. It spread rapidly across the country, and soon the Midwest and Far West were dotted with the distinctive beehive-shaped auditoriums that Chautauquas favored.
In Oregon, the first one was launched in 1885 in Canby, but it didn't have the backing it needed to succeed, and it was gone a year later.
But in 1890, Bishop Vincent came to Oregon to lecture on the Chautauqua movement, and his listeners were very receptive. Within three years, several more Chautauquas had been founded, including one in Gearhardt, one in Ashland, and one in Gladstone.
These last two were to prove the most enduring and influential. Both of them were still in operation three decades later.
Gladstone in particular was the biggest Chautauqua west of the Rockies. It was an Oregon city power couple, Charles and Eva Dye, who provided the backbone of the enterprise.
Charles was a successful lawyer, and Eva a writer and poet. Both were graduates of Oberlin College back East, and, as historian Donald B. Epstein puts it, both represented "a type of individual not often associated with Far West frontier society — the person who wanted both the freedom from older Eastern and European political forms, but who still
craved the cultural satisfactions of the older societies."
Epstein was wrong about one thing, though: Far West frontier society was crammed to bursting with that type of individual, at least in Oregon. Mary Dodge of the "Sagebrush Symphony" in Burns leaps to mind, as well as Angus Bowmer of the Oregon Shakespeare Festival — who, by the way, launched the Festival in the ruins of the Ashland Chautauqua's beehive auditorium -- leap to mind.
In any event, after establishing themselves in Oregon City society, Charles and Eva wanted to do something along the lines of "a pure philanthropy," as Eva put it, in their community. Bishop Vincent's visit came at a perfect time. Judge Harvey Cross had bought 640 acres of land north of Oregon City and was platting what would become the city of Gladstone on it; Eva talked him into donating 78 acres of it as a campus on which to launch a Chautauqua for northwest Oregon.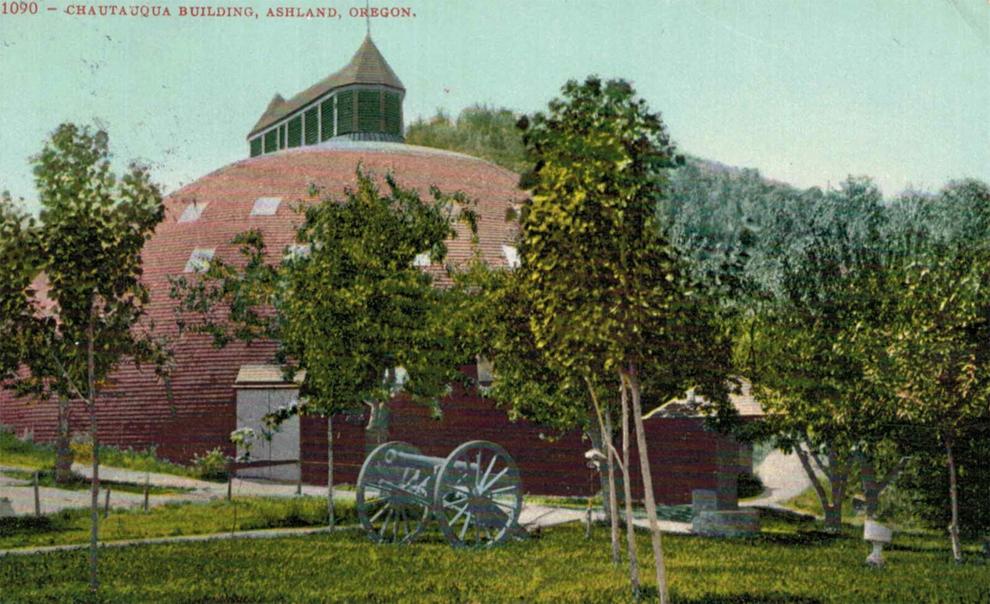 Local businesses, mostly in Oregon City, staked the new undertaking with $5 purchases of stock in the new nonprofit Willamette Valley Chautauqua Association, and the first meeting was held on the Gladstone grounds in 1893.
It was a huge smash hit. A big part of the reason for that was its location, just south of Portland, close by the inter-urban railroad lines that were rapidly connecting the entire Willamette Valley. It was a half-day trip for almost everyone from Eugene to Vancouver and not much more than that for most of the rest of the state.
But a bigger part of the reason for its success was Eva Dye, who threw herself into booking speakers and organizing construction projects there. Down south, in Ashland, G.F. Billings filled a similar role, with similar results.
The Chautauqua grew fast. By 1895 the Gladstone site had its own "beehive," a huge one that could hold 5,000 people. Ashland already had one by then, a smaller one at first — but over the years it would be rebuilt and enlarged three times.
In addition to the Sunday School teacher training, the Chautauquas offered lectures on English and American history, chorus singing, poetry readings, band concerts, baseball games, and lectures from leaders of important Oregon subcultures such as Rabbis and Catholic archbishops, Indian leaders, and leaders of Portland's Black community. The 1895 season at Gladstone included a geology lecture by Thomas Condon of the University of Oregon; an art lecture by John Ivey, a retired University of Southern California art professor living in San Francisco; and a lecture on what would later become the Panama Canal by Willamette University president Willis Hawley. The following year, a crowd of 6,000 gathered to hear a speech by William Jennings Bryan.
The Oregonian summarized the whole movement as "a great university whose students are scattered in homes, on farms, in shops and factories … wherever a human soul carries the love of learning."
A typical day at Chautauqua, circa 1899, started at 8 a.m. with prayers, calisthenics and classes. Roughly 3,000 people attended on an average day, including some who camped there and many others who simply rode the trolley or electric railway from their nearby homes. At 11 a.m. would come the morning lecture, usually on a domestic topic (the crowd was largely women early in the day, as many working men couldn't come until after their shifts were over for the day).
The lecture was followed by lunch; then, at 1:30, more short lectures, followed by a band concert at 2 and a baseball game at 3:30. That got everyone through to suppertime, after which there would be another band concert, followed at 8 p.m. by a literary reading and, at 8:15, the main lecture of the day. The lights went out at 11.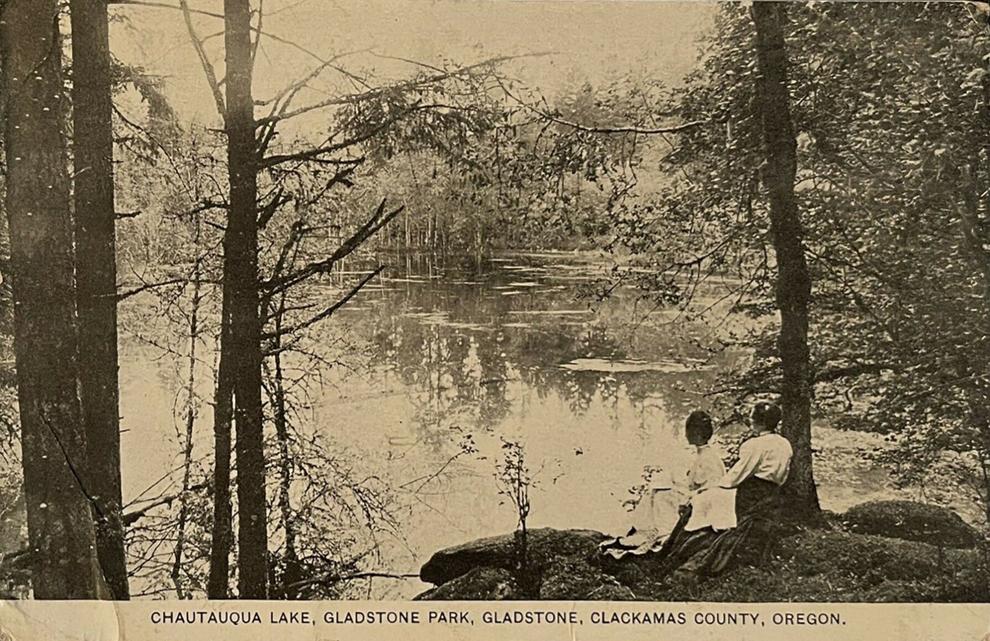 The most popular lectures were on Bible scholarship, followed by literature, history, and science. Joaquin Miller gave a lecture on Oregon literature in 1897; nationally famous cartoonist Homer Davenport gave lectures on "Indian stories and stories of Oregon" and "The Power of Cartoon" in 1905; and Russell Conwall, founder of Temple University, came and delivered his famous "Acres of Diamonds" speech several times in Gladstone. Rabbi Stephen Wise, "America's Rabbi," was a featured speaker. So was Rev. W.W. Matthews, pastor of the Portland African Methodist Church. Booker T. Washington lectured at the Ashland Chautauqua, which also hosted John Philip Sousa and his band.
The Chautauqua movement arose with the Progressive Era, and it was a nearly perfect fit for that pre-war "producer society" version of America where the average person worked the land with horse and steel and got dressed up for church every Sunday. But as the 1920s got under way, Americans, jaded from war and seduced by technology, became increasingly oriented toward the things they could purchase to play and pose with rather than the life they could build through earnest toil, and the Chautauqua movement became a less perfect fit. As the decade wore on, attendance started dwindling. In 1925 the Gladstone Chautauqua started running a deficit. By 1929 the gulf between income and outgo was too wide to bridge with the charitable contributions of local businessmen, and the Chautauqua reluctantly closed its doors forever.
The campus was sold to the Seventh-Day Adventist Church, an organization that is especially strong in Oregon and that, like the Jehovah's Witnesses and Christian Scientists, actually carries a lot of the pre-war spirit of Chautauqua to this day. The church uses the campus as a campground and retreat center for its members.
Down in Ashland, the grounds were expanded over the years into what today is Lithia Park.
Could something like the Chautauqua movement flourish today? In one sense, the answer is pretty clearly yes. The Chautauqua movement showed the way for universities, especially state land-grant universities like (ahem) Oregon State University, to reach out and engage with learners in their own towns and communities rather than lurking behind podiums on far-distant leafy campuses. The result was a nationwide system of university extension, which has become almost as big a part of post-Great War rural America as Chautauqua was before. Between Extension and the continuing-ed classes offered by community colleges, the core educational functions of a local Chautauqua really never went away.
And the Internet has made resources like Coursera and the Khan Academy available, too, so that anyone who thirsts for knowledge can tap a fire hose of learning at any time.
But as for the whole "summer camp for grown-ups" model that Chautauqua represented, that has not come back. Which seems rather a shame, doesn't it?
(Sources: "Gladstone Chautauqua: Education and Entertainment, 1893-1928," an article by Donald B. Epstein published in the Winter 1979 issue of Oregon Historical Quarterly; "Chautauqua in Oregon," an article by Joe Peterson published Oct. 26, 2021, in The Oregon Encyclopedia; "The Most American Thing," an article by Bruce Watson published March 20, 2020, in The Attic, www.theattic.space)
Finn J.D. John teaches at Oregon State University and writes about odd tidbits of Oregon history. His book, Heroes and Rascals of Old Oregon, was recently published by Ouragan House Publishers. To contact him or suggest a topic: finn@offbeatoregon.com or 541-357-2222.